The latest release of Velocity Smart Collect™, the world's first app to integrate Smart Lockers to ServiceNow, launches today.
Velocity Smart Technology has launched the latest release of its ServiceNow certified Smart Collect™ App to the ServiceNow Store.
Velocity Smart Technology - Smart Collect™ Release 4.0.0 launch
Smart Collect™ 4.0.0 is our latest release that now enables our brand new premium range of Element series Smart Lockers.
4.0.0 Release Contents
Compatibility to the new Velocity locker range
Miscellaneous fixes
Restock page optimisation
We are proud to be adding our brand new premium Element Series to extend our locker catalog. Our premier locker series featuring graphical user interface, indoor/outdoor use and has a host of extendable features arriving in 2022 including Power and Ethernet, inbuilt camera and all-new ServiceNow Graphical User interface.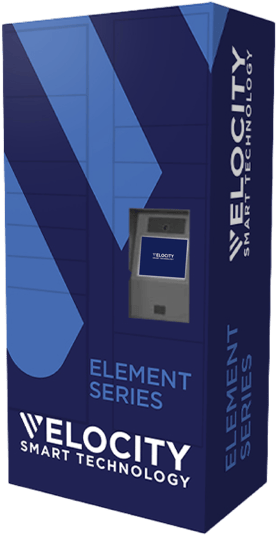 PREMIUM LOCKER RANGE FEATURES:
Wide range of locker door sizes that can be reconfigured onsite.

Over 20 satellites can be connected to a single controller kiosk.
Locker cabinets will be used interchangeably for IT Asset and Parcel Delivery Use.
Improved touch screen user interface.
Option of signature in future.
Inbuilt camera, giving the option to record use and transactions.
Custom branding available.
This release is available for immediate download from the ServiceNow store. To find out more about this release click the link to the ServiceNow store below.

About Velocity Smart Collect™
Velocity Smart Collect™ is the world's first ServiceNow app to control Smart Lockers and access to IT equipment directly from ServiceNow ITSM. Velocity Smart Collect™ extends ServiceNow's reach beyond digital workflow into physical workflow for the first time, enabling ServiceNow ITSM to seamlessly control and manage Velocity's industry leading range of Smart Lockers and Smart Vending solutions. This enables organisations to offer their employees controlled, auditable access to the equipment they need, when they need it, 24/7, at a fraction of the cost of traditional fulfilment methods, while improving the employee service experience.
Velocity Smart Collect™ has met the high standards of the ServiceNow Built on Now Program, an app monetization framework designed to recognize partners with proven ServiceNow expertise that creates value for our customers across industries.
About Velocity Smart Technology
Velocity Smart Technology is designed from the ground up to deliver the most effective Lockers and Smart Vending solution for Enterprise IT that integrates seamlessly to your existing services, which is why we built it on ServiceNow . We're proud to be the Worlds first ServiceNow fully integrated Smart Locker and Smart Vending solution that finally delivers on the promise to Save you time, Save you money and Improve your service.
Smart Collect™, Velocity Smart Locker™, Velocity Smart Vending™, are registered trademarks of Velocity Smart Technology ltd. in the United Kingdom and/or other countries.
ServiceNow, the ServiceNow logo, Now, Now Platform, and other ServiceNow marks are trademarks and/or registered trademarks of ServiceNow, Inc. in the United States and/or other countries.
To find out how to implement this new release for your ServiceNow platform click the link below to contact Velocity Smart Applications support.