Velocity Smart Lockers
Take a glimpse at the fully automated future of IT support
Our vision has always been to automate every possible part of the IT equipment provisioning process. We believe that if a laptop is in one of our lockers, all the other steps in getting a laptop built, patched and collected by a user should be fully automated.
And the first big milestone in this journey is to have a Smart Locker capable of charging laptops, smartphones and tablets with wired network connectivity which can allow laptops to be quickly imaged, patched or repaired.
Which is why we have developed the Velocity Smart's new Element Spark series – the world's first ServiceNow app-connected Smart Locker with combination mains and fully managed network connectivity.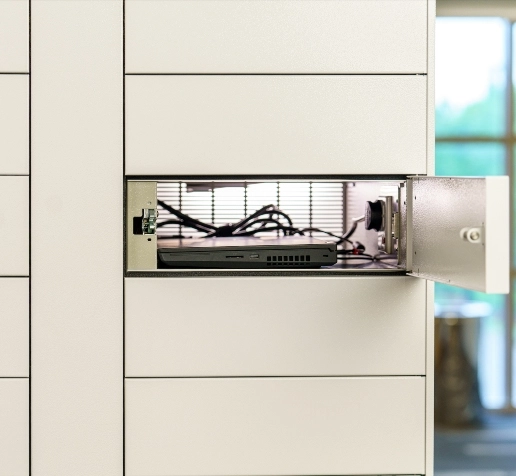 Velocity Smart Element Spark gives you the power
Always Charged
Automatically select charged devices from the locker.
Networked
Use wired network connectivity to manage device builds and patches.
Future Proofed
Element Spark is for the arrival of Smart Collect™ ServiceNow app controlled automated device provisioning features. Coming 2023.
Velocity Smart Technology
Element Spark Features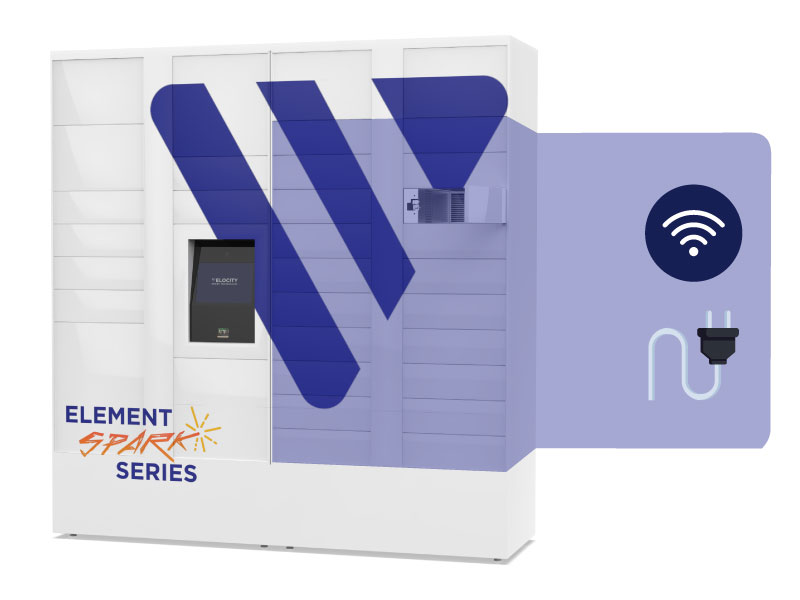 The Element Spark is available in the 22-door Element series satellite module and has charging and network connectivity to 20 of its 22 locker cells.
The Element Spark Series has a range of features designed to enable enterprise; IT support teams to deliver charged and prebuilt devices to their customers in a fraction of the time.
Screenshot 2022-10-11 at 15.47.18
AC Mains Charging
Each Element Spark comes with 20 charging locker cells with AC Mains power, ideal for charging laptops and chromebooks!
The power sockets are certified and available with UK, US and EURO plug socket configuration. The modular design means additional regions will be available upon request.
Screenshot 2022-10-11 at 15.48.58
Managed Switch
The Element Spark is the first Smart Locker with an internally mounted 19" Network Switch slot enabling you to install corporate chosen make and model of network switch, making Element Spark the only network connected Smart Locker which can be fully controlled as part of your businesses managed network device estate.
Screenshot 2022-10-20 at 11.07.17
Network Cabled
Each of the charging locker cells also has an RJ45 CAT6 network port to enable laptops to have full LAN network speed connection, perfect for device imaging, patch downloads and more.
Screenshot 2022-10-11 at 15.50.02
Extendable
The Element Spark series is ready for all the future software updates which are planned, including Kandji and InTune end-point management software integration, coming in 2023.
Screenshot 2022-10-11 at 15.49.24
Active Locker Cooling System
Each Element Spark satellite comes with a built-in super quiet active air filtration and blower system to keep all the locker cells working at optimum temperature, even when full of charging or rebuilding laptops!
Picture 1
Smart Collect™ Managed
From restocking to the automatic selection of charging devices first, the Element Spark series is fully integrated to Velocity Smart Collect™
Velocity Smart Collect™
Uses for the Element Spark Series
The Element Spark opens up a new world of use-cases for corporate IT support.
Borrow-Return-Rebuild
With loaner devices, you used to have to visit the locker, take the used loan device back to bench, rebuild it and return it to the locker. Now with Element Spark you can rebuild your loan devices in the locker, saving time and locker visits.
Break-Fix-Rebuild
With Element Spark your employee can drop off their laptop to the locker and you can remote onto it, diagnose the fault and repatch, reimage or rebuild the device remotely, without taking the device out of the locker.
Always ready to use powered devices
With Velocity Smart Collect™ "powered first" AI logic, you can ensure that your employees are always given charged devices first, reducing employee down time and great for rollouts of smart phones and new devices.
In-locker device refresh
With Element Spark you can ensure that every device you provision is remotely patched and compliant to your latest build standards.
No more having to take loaner or backup devices out every few weeks to update patches.
Velocity smart lockers
The benefits of Velocity Smart's Element Spark Series
The Element Spark series will deliver real-world benefits the moment its deployed.
Reduce downtime
Reduce employee downtime by ensuring collected devices are charged and ready to go.
Improve customer satisfaction
Happy charged devices means happy customers. Improve your CSAT scores with pre-charged devices.
Reduce locker visits
The Element Spark remote build and provisioning features means you can reduce the number of locker visits required to rebuild loaner devices and fix laptops.
Ensure compliance
With remote checking of end point patch and build levels, combined with remote patch provisioning, you can ensure every device given from the locker is up to your latest security standard.
No security headaches
Your InfoSec and Network teams will love that the locker is managed by their standard network switch, making the locker secure and easy to manage.
Any network security update can be automatically pushed to the maned switch in each locker.
Future proofed
With Element Spark you will be able to implement new Smart Collect™ software updates that add new features and enhance existing ones, simply by upgrading to the newest version of Smart Collect™
With Velocity Smart Collect introducing end-point device management integration to amazing tools like Kandji, you will be able to increase the range of features and benefits from Element Spark every year.