Velocity Smart Collect™ is designed for enterprise IT support
Velocity Smart Collect™ is the world's first ServiceNow Built On Now certified application, designed to provide the very best Smart Locker and Smart Vending solution for enterprise IT Support.
KEY BENEFITS
Designed for Modern Digital Workplace Support
As a ServiceNow certified application Velocity Smart Collect™ provides corporate IT teams with a unique set of benefits.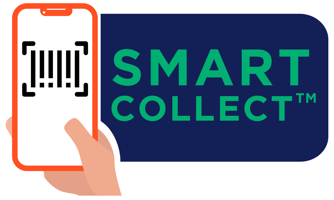 Built on Now
It is the only ServiceNow Built On Now certified Application - always certified to upgrade seamlessly and work with the latest version of ServiceNow - there is no technical debt.
No Extra Apps
You are able to do everything from ServiceNow – for Lockers and Vending, from stocking to collection - no shadow IT, additional locker apps or swivel chair operation.
Full Automation
Velocity Smart Collect™ delivers fully automated "zero-touch" request workflows, enabling you to extend service hours and create bold new service models for your customers, like no other Smart Locker solution.
Designed Around You
Velocity Smart Collect™ offers the use cases for modern IT support teams, from Incident to Request, to Equipment Loans, our solution works the way you work.
See Velocity Smart Collect™ in action!
Take a tour through our fully automated app, where you will be able to experience first-hand how you can order and collect equipment from your ServiceNow request portal.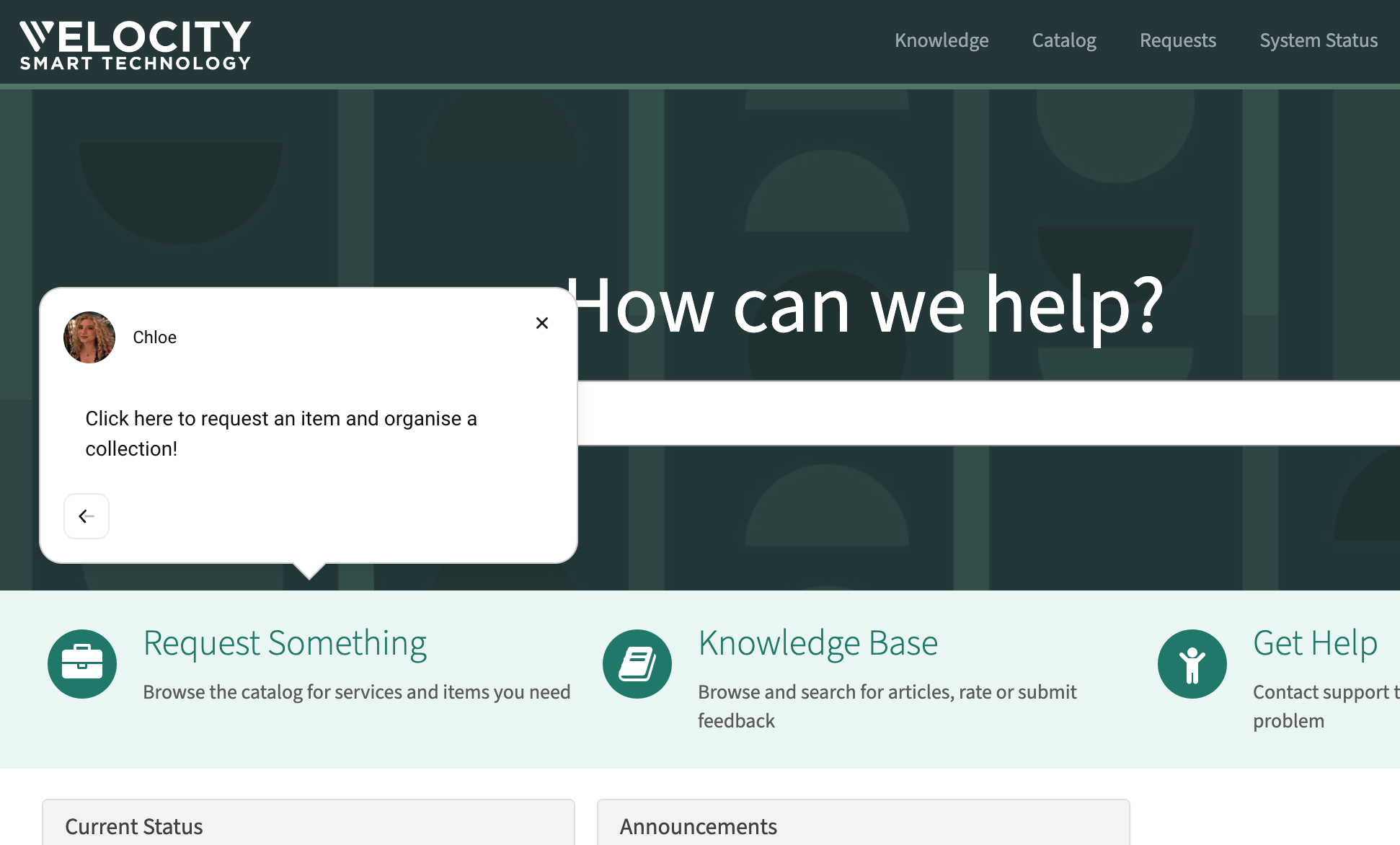 Designed for Users and Support Teams
Application Features
Velocity Smart Collect™ offers a range of features for Smart Locker Users and IT Support teams.
Application Features
User Features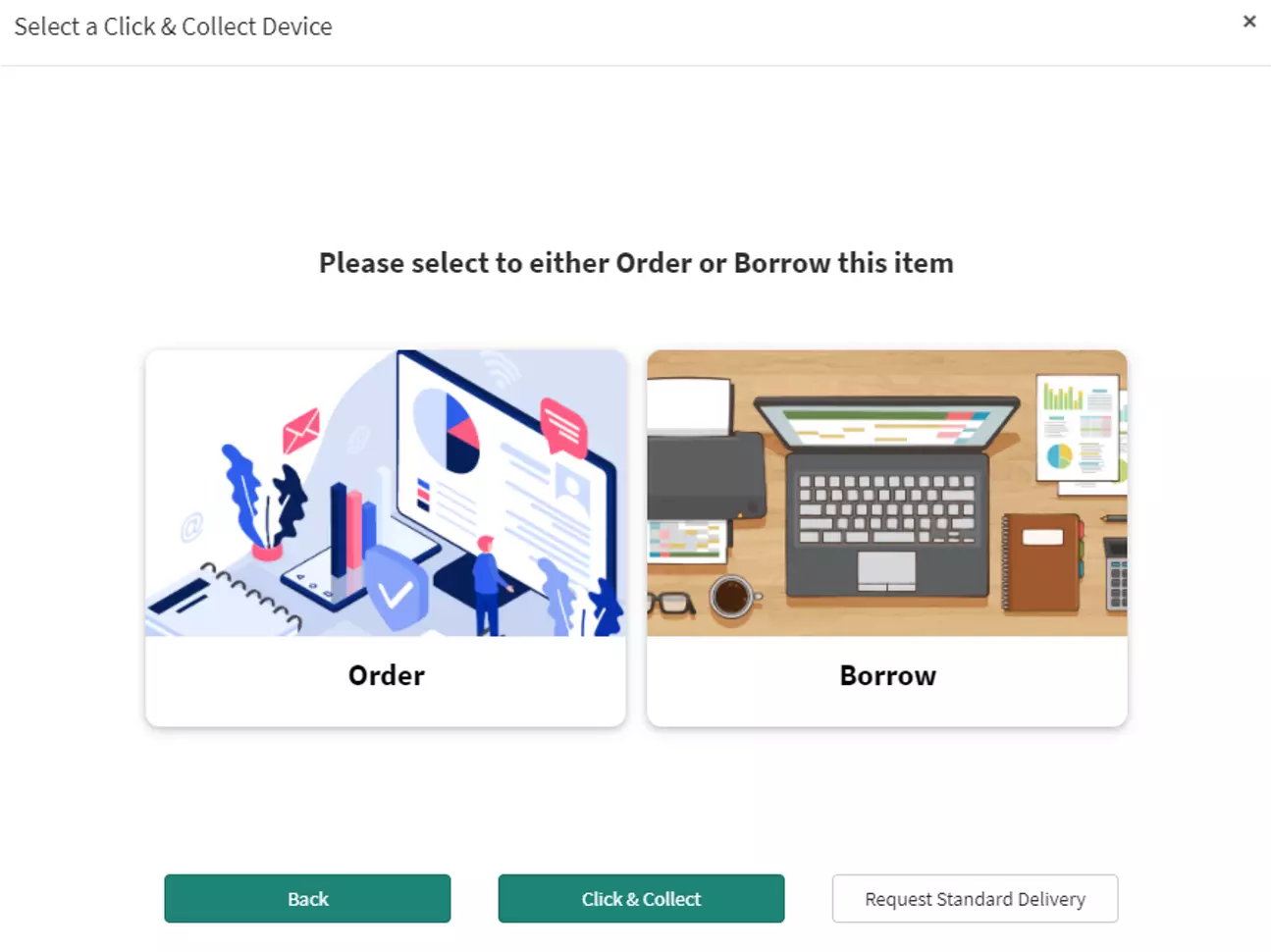 User Feature
Click and Collect
User Feature
Secure Barcode Collection
Each request has a unique one-time-use collection code, sent securely to your ServiceNow registered email.
To collect the item from your locker simply type in the code or scan your barcode directly from your smartphone, then open the locker cell door and collect your item.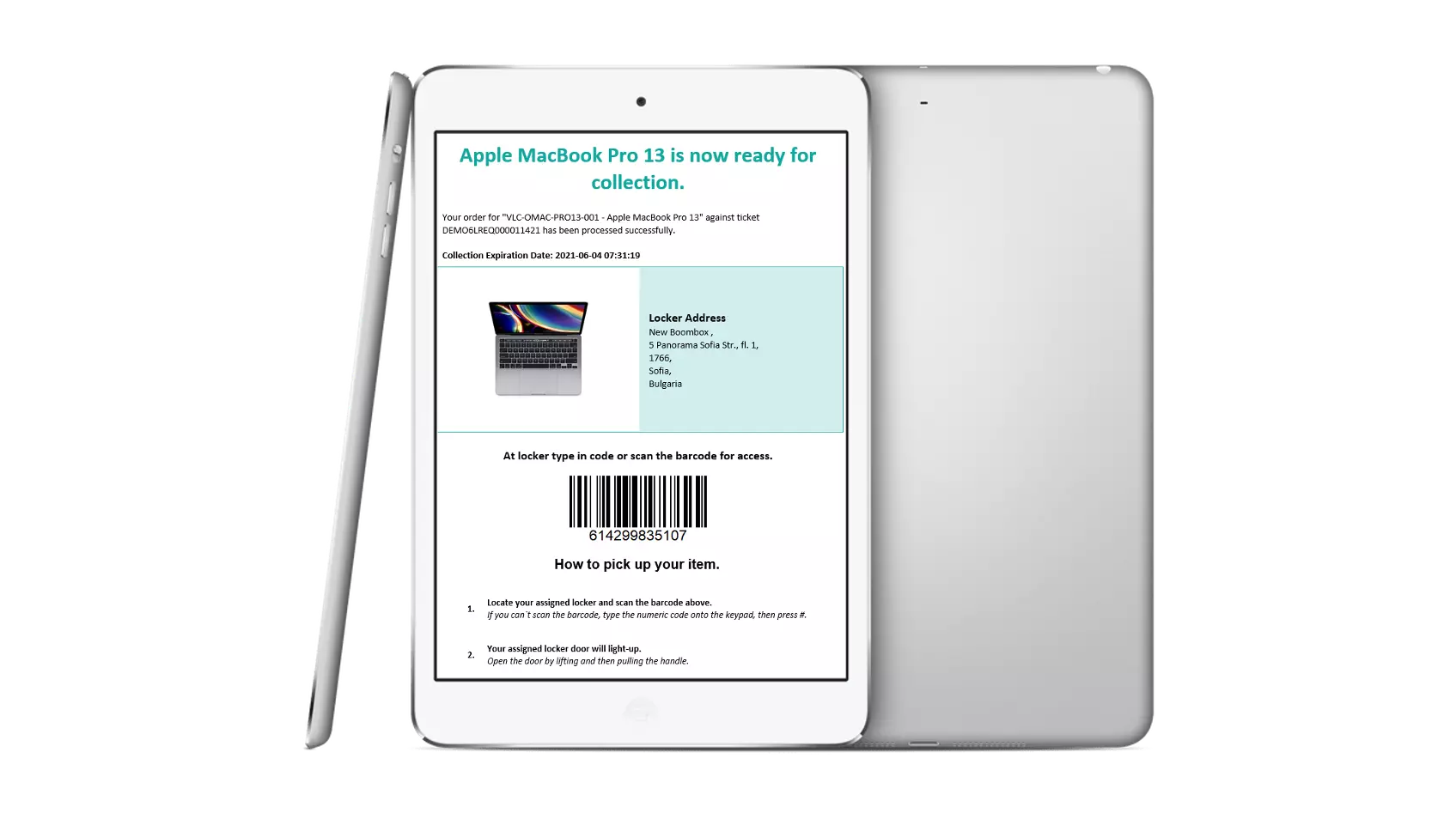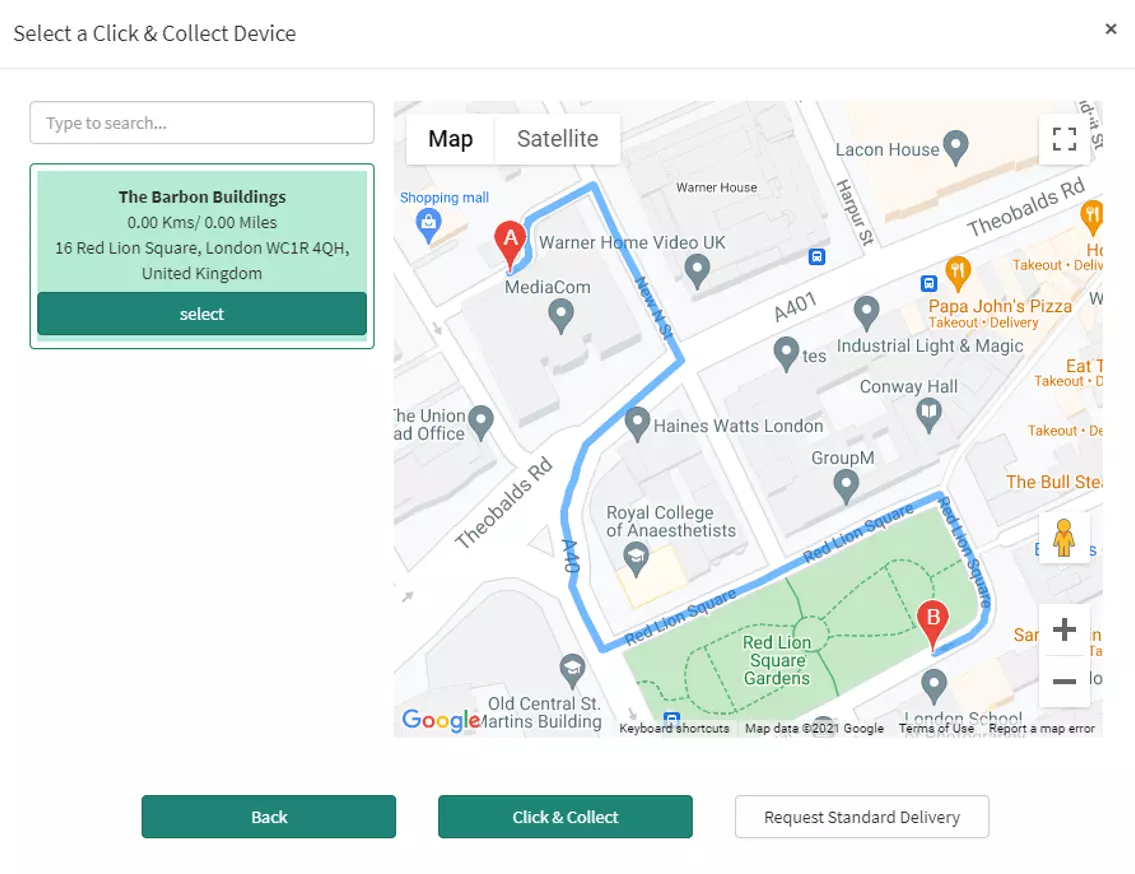 User Feature
Geo location
Smart Collect comes with in-built geo-location as standard - allowing users to see the Smart Lockers nearest their current location, which have the item they require in stock.
No more wasted trips to your office or tech bar just to find they don't have the item you need in stock - Smart Collect helps deliver a promise of "no more user disappointment".
User Feature
Fully Automated Provisioning
Smart Collect allows for pre-stocking of equipment which can be automatically provisioned based on your companies existing approval rules.
So now, if your user needs a new laptop charger at 2am, they can be automatically sent the pickup code to go and collect immediately - no more waiting for "someone in IT" to approve and assign.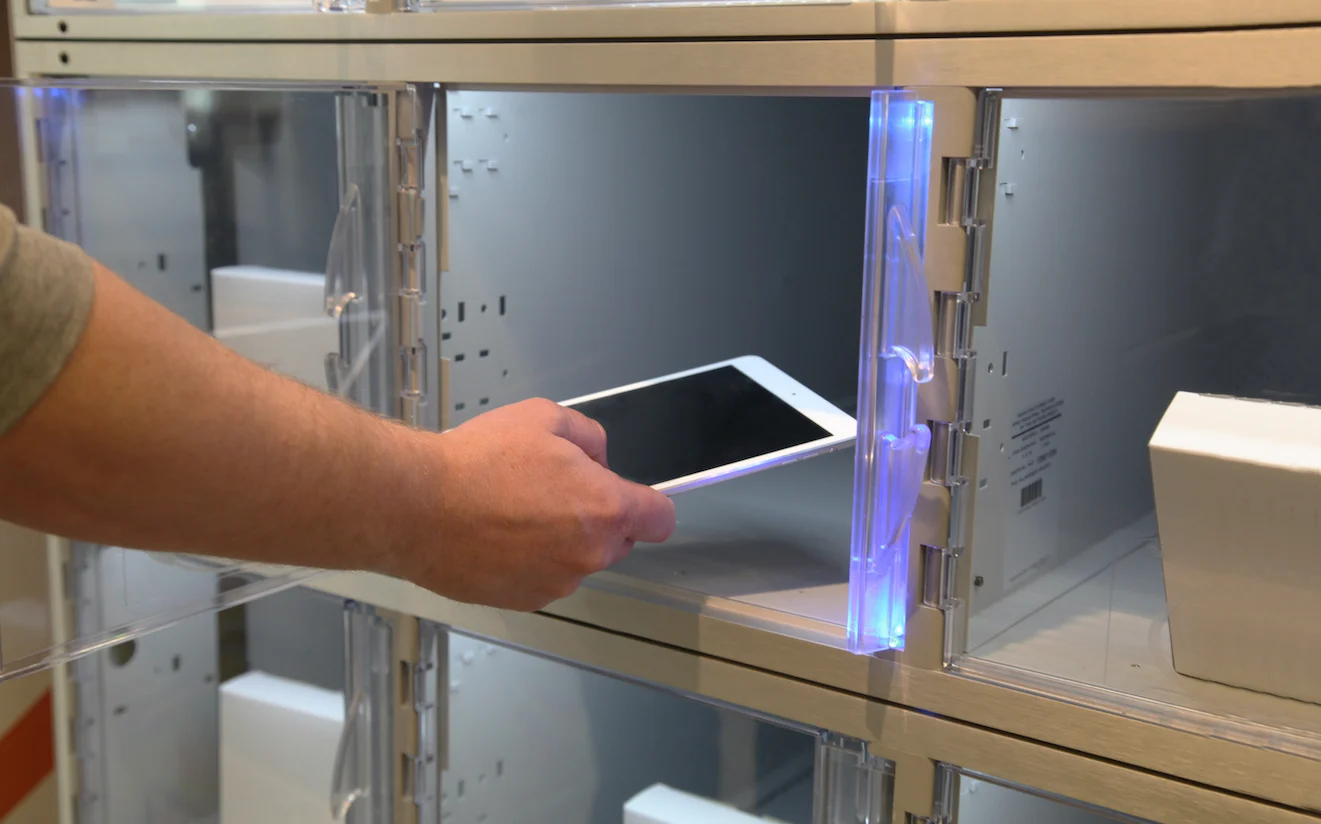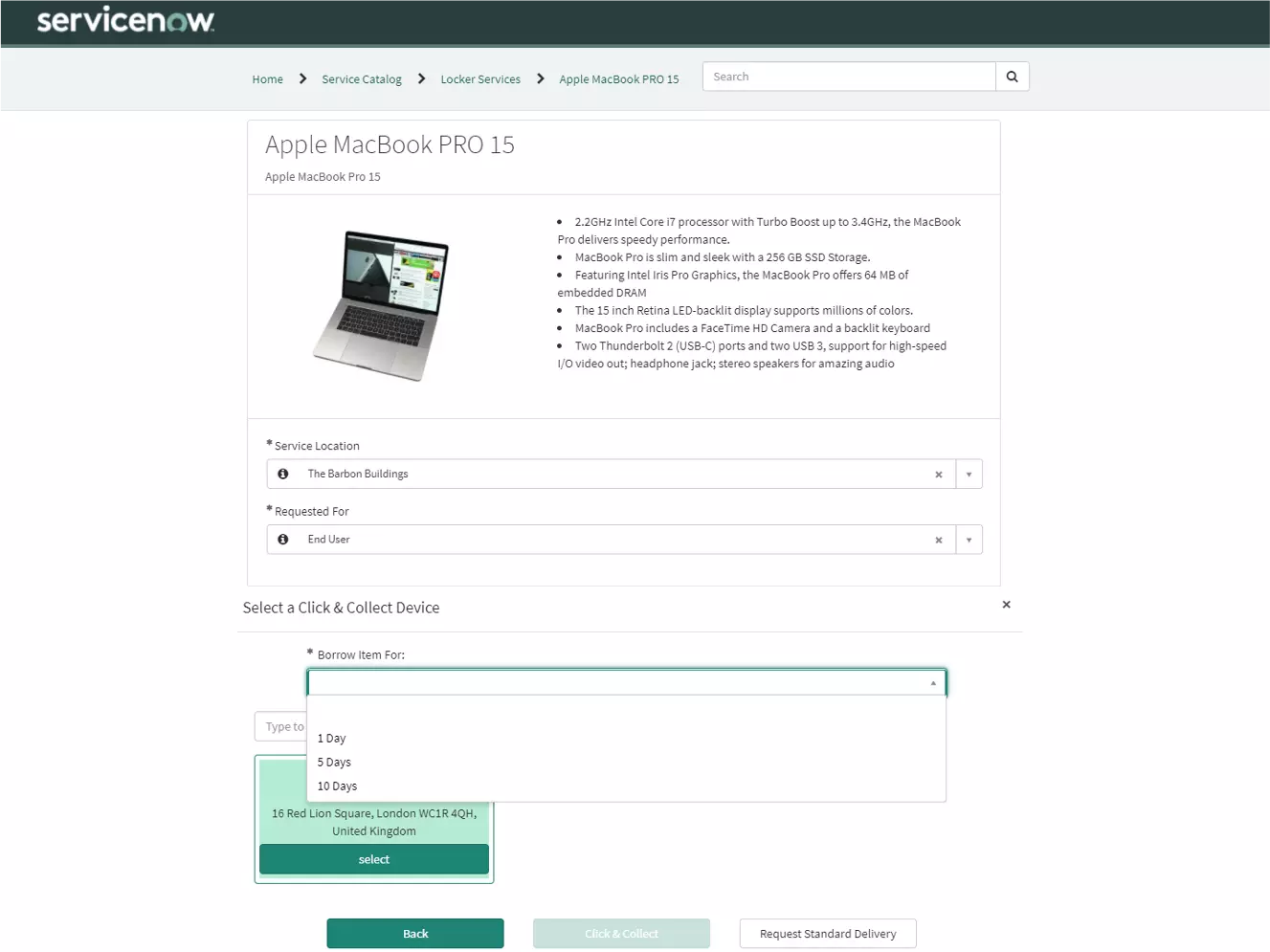 User Feature
Lending Equipment
Smart Collect is fully featured to allow your users to be lent equipment. With fully configurable lending time periods, reminder emails and the ability to assign equipment to lending only, Smart Collect now allows you to meet your user's flexible work needs.
Your top exec is traveling to an office in another city and realises they left their charger at home? Now they can simply request a "loaner" power supply (or even laptop) to be ready for them to collect from the locker the moment they arrive.
User Feature
Equipment Break-Fix
Smart Collect goes beyond equipment requests to allow you to fully support your users Break-Fix tickets, integrating to ServiceNow incident management to enable both faulty equipment to be safely stored in the Smart Locker and a replacement asset collected, all in the same support ticket.
Now with a Velocity Smart Locker on-site your remote Service Desk can fully resolve break-fix support tickets even outside of on-site support hours.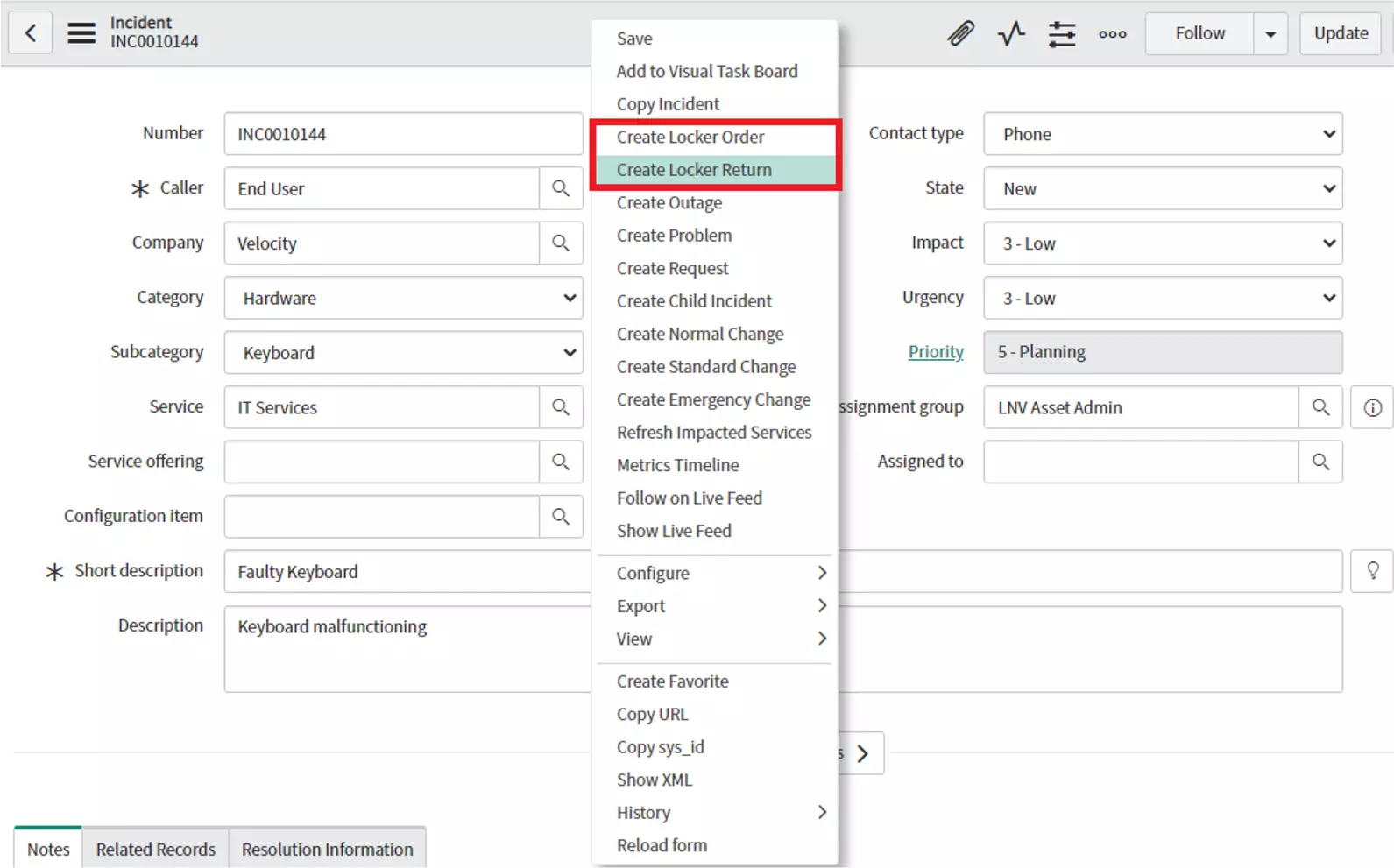 Application Features
Support Team Features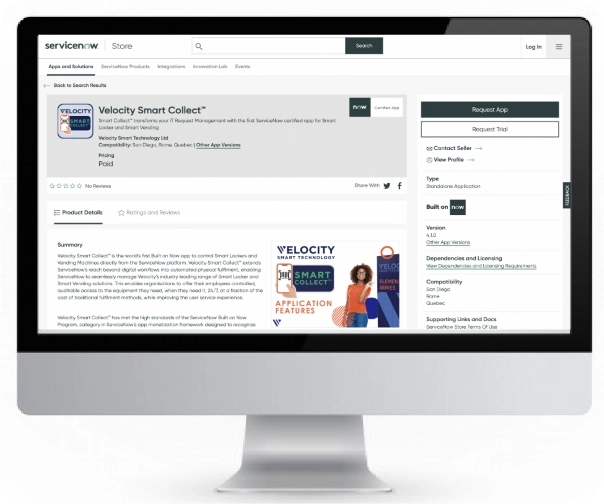 Support Team Features
Available from the ServiceNow App Store
Smart Collect is downloaded straight from the ServiceNow Store and is configured in a matter of hours. With a few tweaks to your catalogue request forms and you are fully up and working - most customers release the solution to production in a few weeks.
The Velocity implementation experts are there to assist you throughout the process, and with our agile implementation solution, we work with you to design and implement the Smart Collect workflows to work perfectly with the way your business needs them to. No more compromising your business processes around a new tool.
Support Team Features
No Data Issues
As a Built On Now certified ServiceNow application, with Velocity Smart Collect™ all your user data and transaction information is stored where it should be; in your ServiceNow platform.
No GDPR concerns, no Data Loss, no Security or Pen Testing issues - all fully secure and integrated out of the box.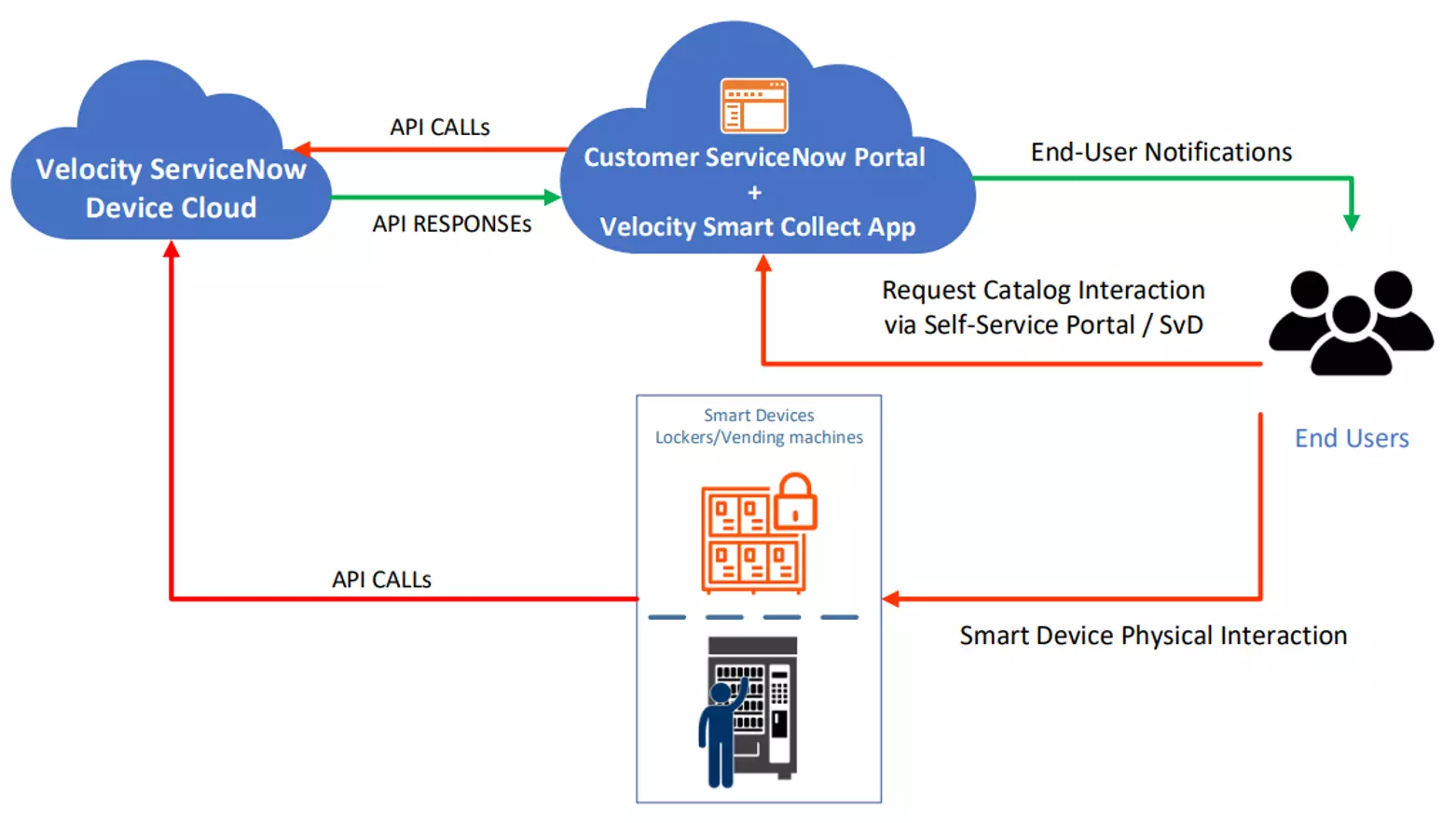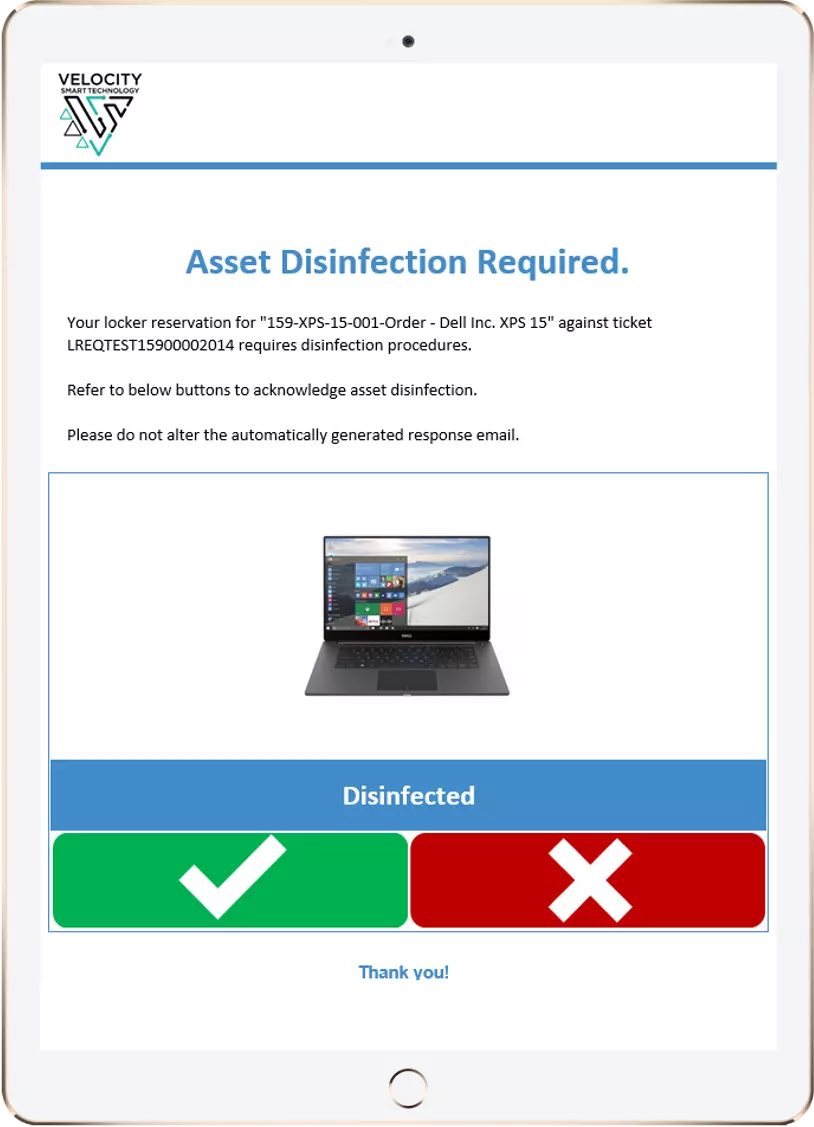 Support Team Features
COVID Safety Features
Velocity Smart Collect™ is the only Smart Locker application with built-in COVID safety features.
Support teams can ensure all items stocked into Smart Lockers have been disinfected according to your lock-down policy.
All locker items (either stock placed in the locker by IT teams or equipment being returned by end-users) can have a configurable 'Quarantine period' before the item can be collected from the Smart locker.
Support Team Features
Velocity Smart Select™ fulfilment engine
Our innovative Velocity Smart Select™ fulfilment engine simplifies Catalogue Asset mapping and fulfilment:
Map multiple Asset models to a single Catalogue item.

You can create a standard laptop request that can be fulfilled with multiple models of laptops available in Velocity Smart Lockers based on a set of simple or advanced rules.
Map multiple Catalogue items to a single Asset model.

Velocity Smart Select also enables multiple Catalogue items to be mapped to a single Asset. Separate Catalogue items can be created for Ordering and Borrowing of a single Asset model.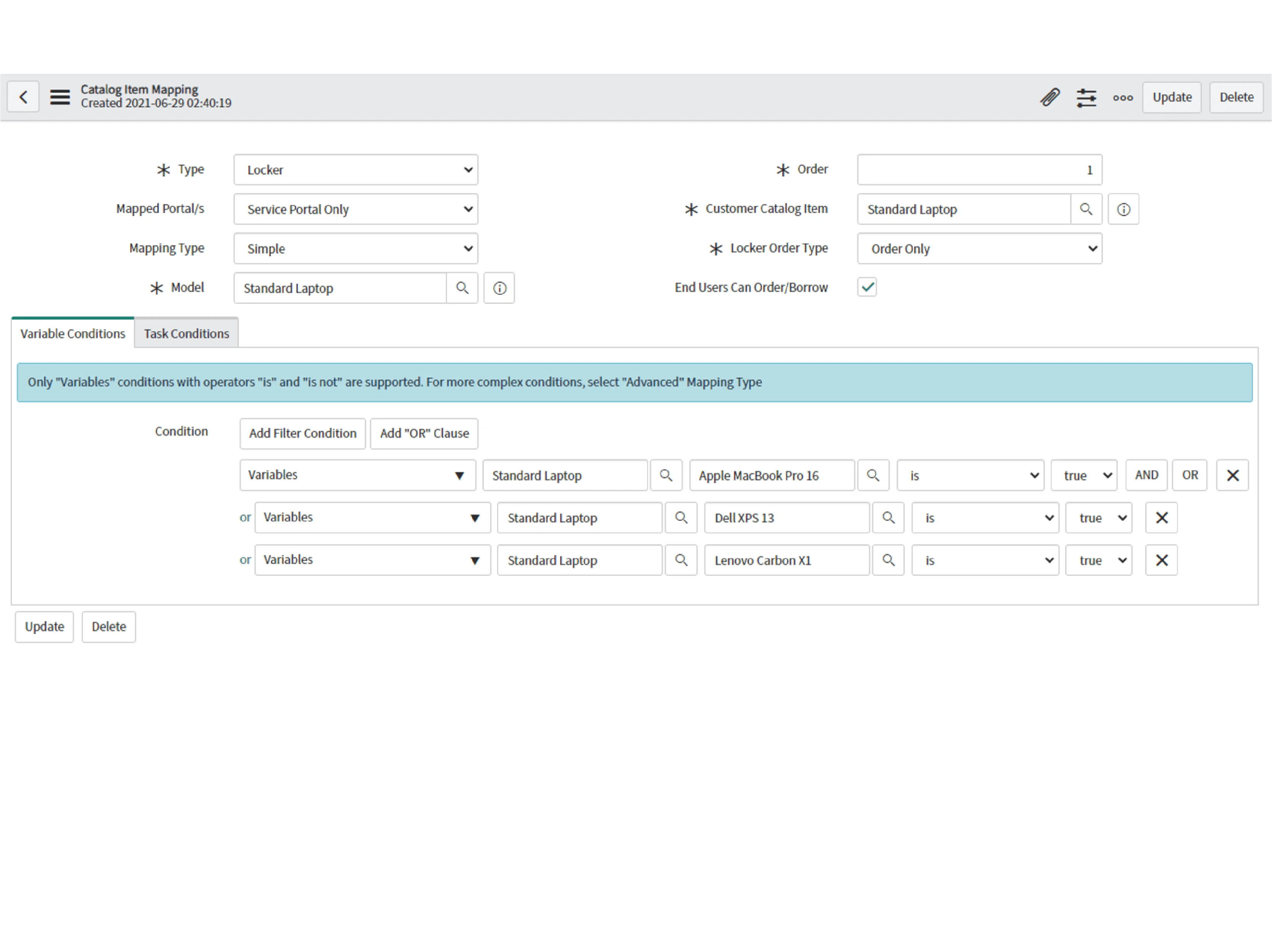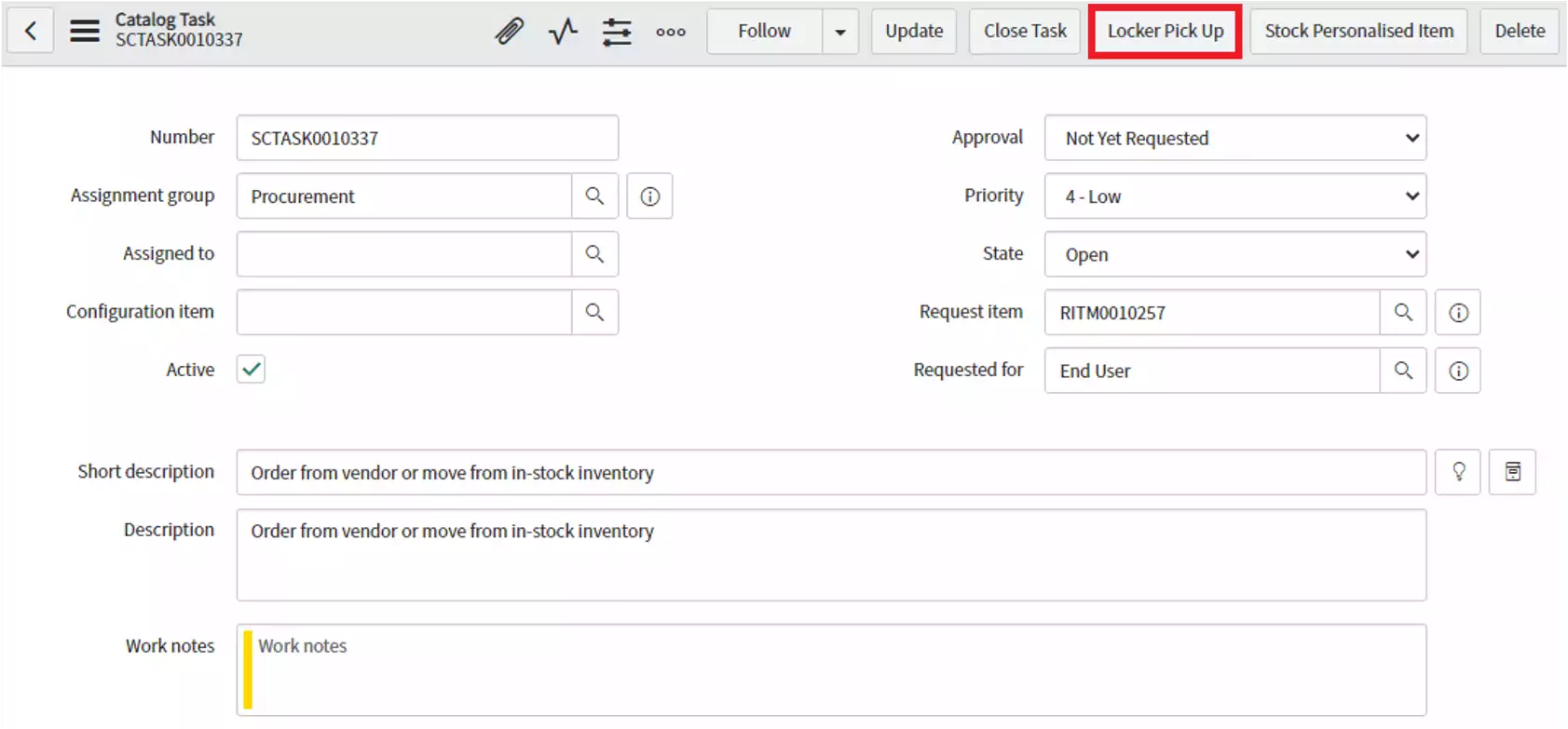 Support Team Features
Agent WorkSpace Add-On
Velocity Smart Collect™ comes with a range of features for Service Desk agents and Deskside support teams.
Assigning a support ticket to be Smart Locker fulfilled.

With Smart Collect, a Service Desk agent can check stock levels of Smart Lockers near to the user, assign a support ticket to be fulfilled by the Smart Locker, and then automatically email the user the collection barcode or read the collection code out to the user over the phone.
Personalised Stock Request.

We realise that sometimes you need to personalise or configure a device for a user before you give it to them, for example, if you have a manual laptop build process that needs a Deskside support engineer to configure the laptop by hand before giving it to the user. For these types of requests we have our "Personalised Stock Request" feature which enables Service teams to stock a specific item for a named user, which will only be collected by their request code.
Support Team Features
Velocity Smart Collect Portal
Velocity Smart Collect™ comes with the Velocity Smart Collect Portal built into the ServceNow sidebar - giving you full control over your Velocity Smart Lockers and Click and Collect requests.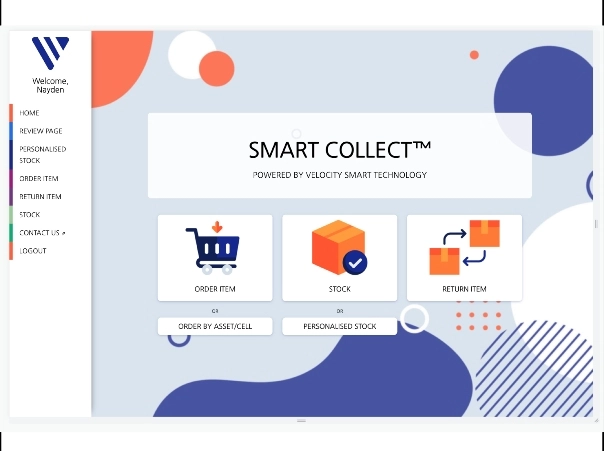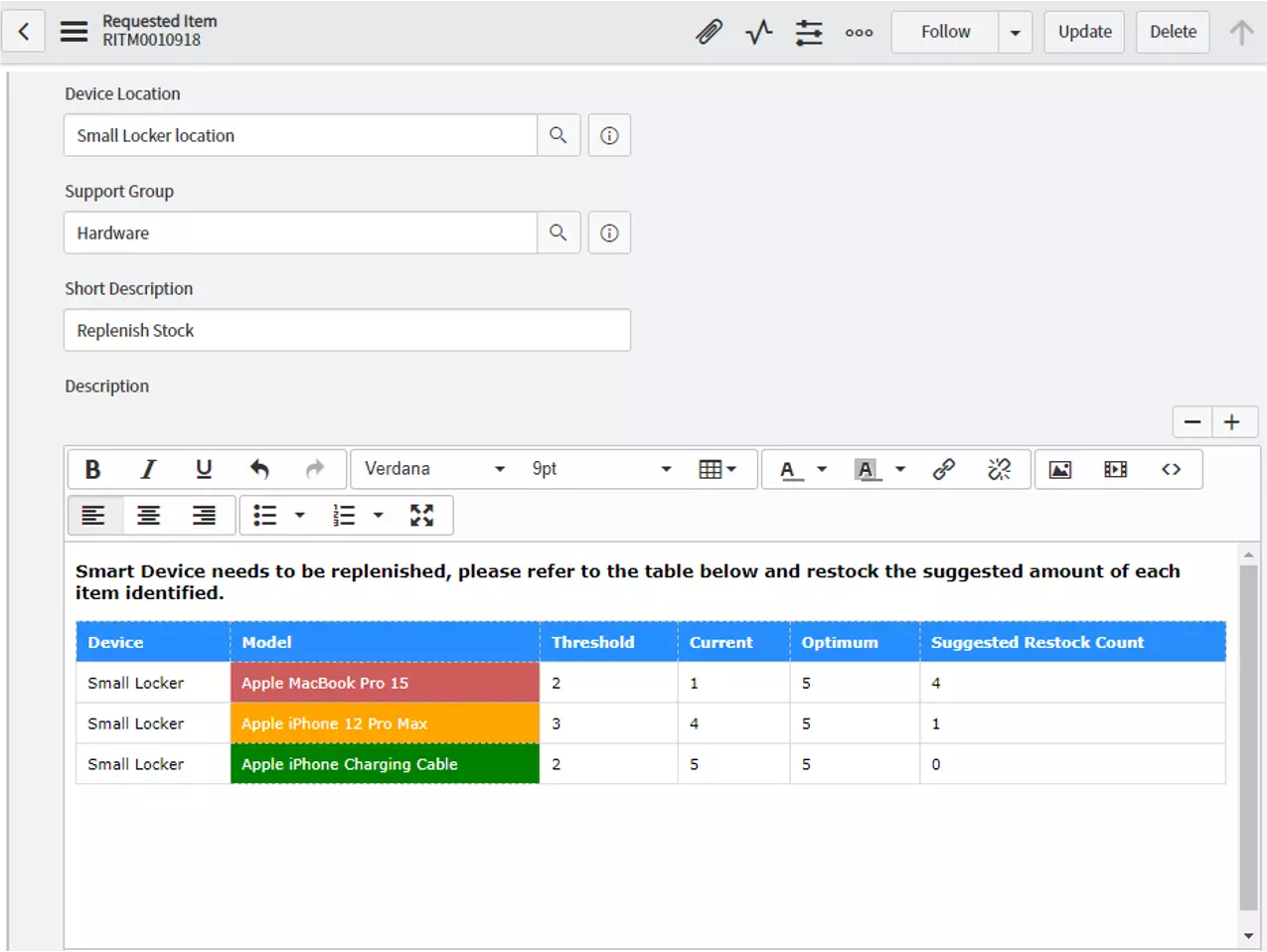 Support Team Features
Automated Restocking
A Smart Locker solution quickly loses the trust of users in the service if the Smart Lockers and Vending machines run out of stock.
This is why Velocity Smart Collect™ integrates with existing ServiceNow Stockrooms and comes with a fully-featured Stock level reporting, automated restocking service notifications, and Smart Locker and Smart Vending stocking request management, all from within your ServiceNow platform.
With our Red/Amber/Green stock level management and Service notifications, Service teams can plan their next site visit and make sure they replenish stock levels of all items.
Support Team Features
Powerful Reporting
Velocity Smart Collect comes with a set of powerful reports as standard, detailing stock levels, SLA response, Smart Locker and Vending usage, per location.
And of course all the reporting data is held within your ServiceNow platform, no more data importing and out of date information.
So now you can create any custom report you need and combine Velocity Smart Collect data with ServiceNow ITBM or ITOM powerful reporting and demand management tools to create truly insightful reporting tailored just for your business.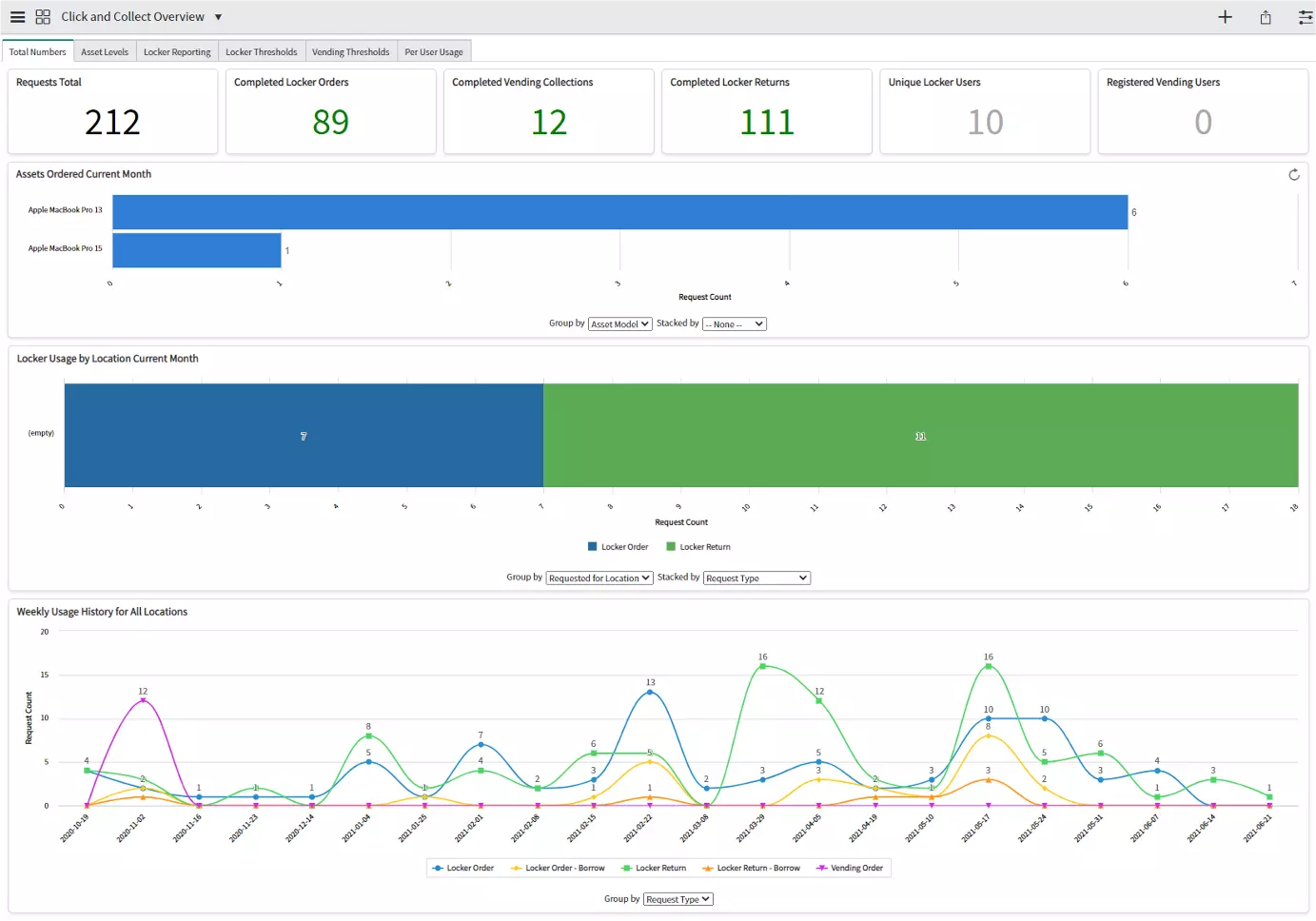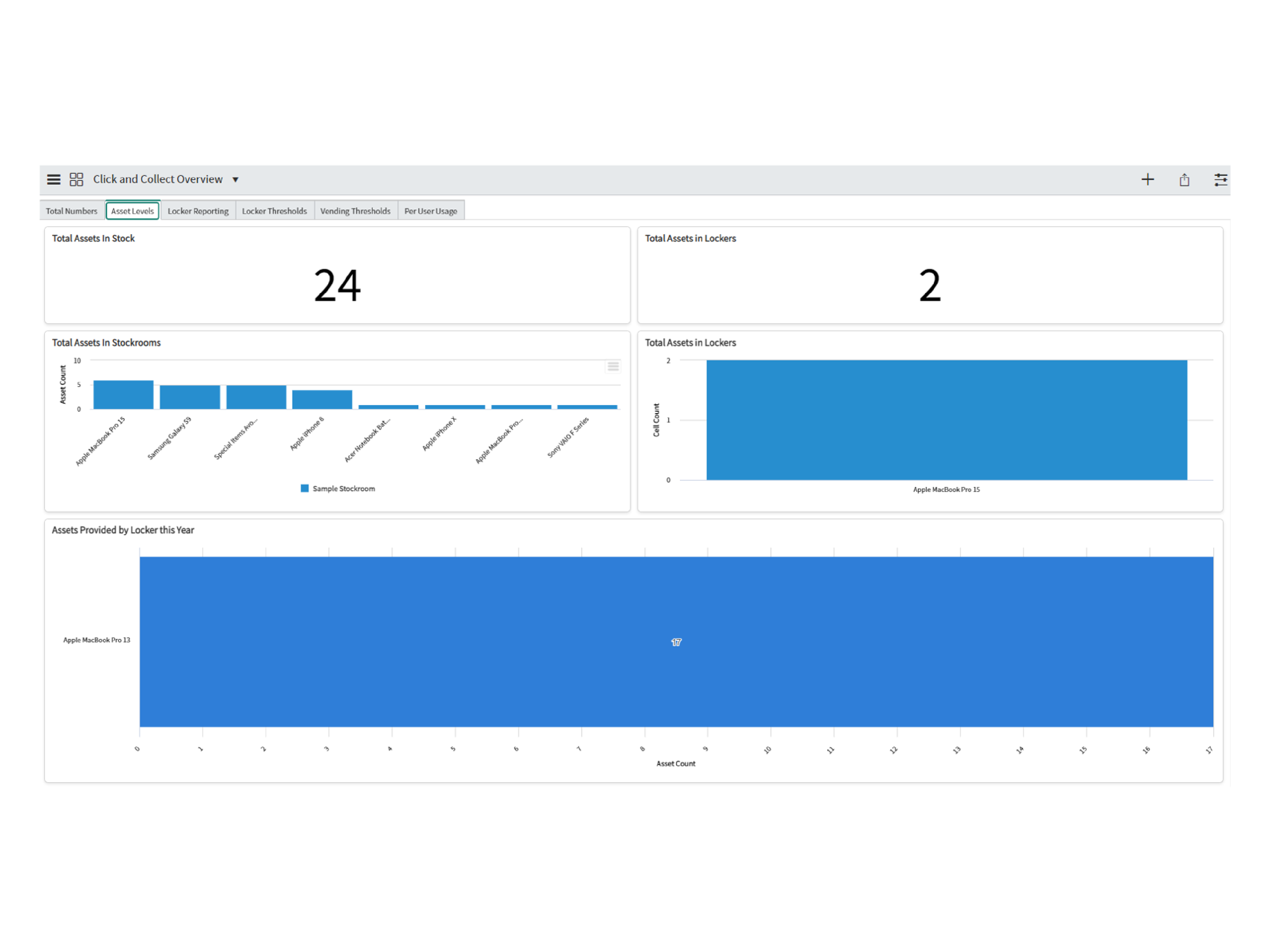 Support Team Features
Full Asset Management
Velocity Smart Collect™ fully integrates to your existing ServiceNow Hardware Asset Management (HAM) and CMDB data tables so you are able to fully track all assets which are stored in and provisioning from your Velocity Smart Locker solution.
No more loss of asset inventory and messy store cupboards, finally you can safely and securely track every asset with Velocity Smart Collect™.
Built on Now
Velocity Smart Collect™ is Built On Now Certified
Built On Now
Key Benefits
Our Commitment
What is Built on Now
A Built on Now application is one that is built, natively, on the ServiceNow platform. In other words, it's an application that has the primary business logic, user experience, and end customer value all driven/experienced/designed on ServiceNow.
In the world of custom apps, there's a spectrum of solutions when it comes to where app logic resides and on which technology stack.
This can lead to uncertainty and doubt around the reliability and security of the applications you are using.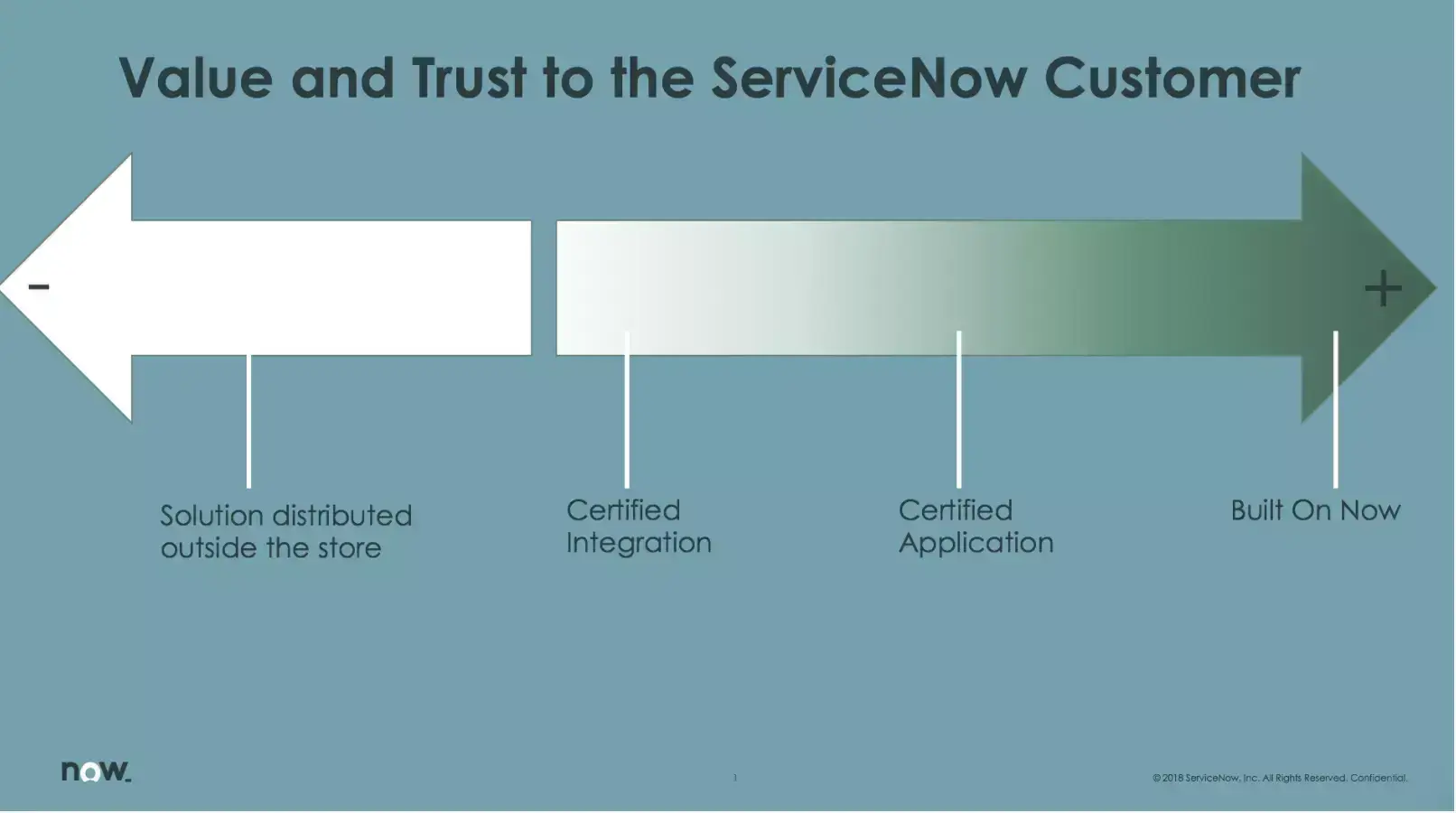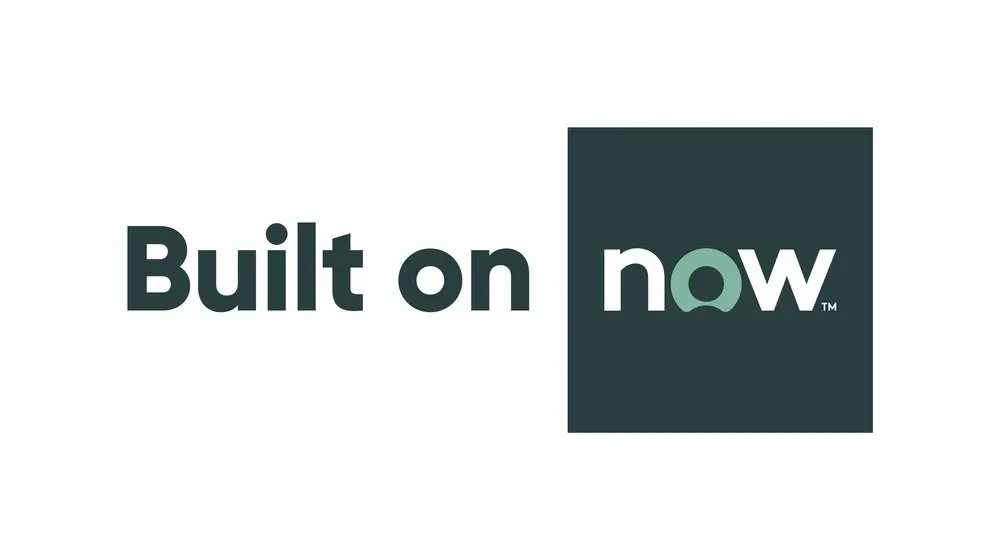 Built On Now Benefits
By clearly certifying applications which are Built on the ServiceNow platform, customers deploying Built On Now apps, like Velocity Smart Collect™ are certified by ServiceNow to work with all supported versions of ServiceNow whilst having the highest degree of trust that the application will perform with the same industry-leading levels of reliability and security as ServiceNow.
Our Commitment to You
Velocity Smart Collect™ is not just reliable and extremely secure, we commit through our continued certification that our application is always certified to work with all supported versions of ServiceNow.
The Velocity Smart Collect™ upgrade process is easy and takes a matter of hours to perform.
This is why Velocity Smart Collect™ offers the lowest level of technical debt of any integrated Smart Locker solution, maximizing your technology investment.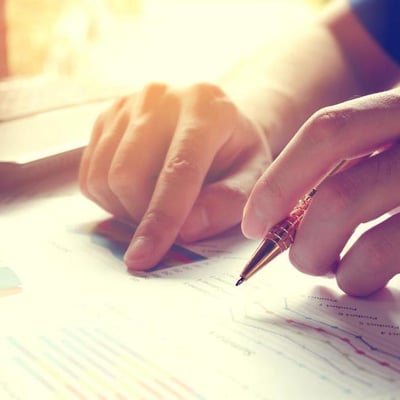 Release Overview
Our Latest Release Features
Smart Collect™ 5.1.0
We launched the latest release Velocity Smart Collect™ App to the ServiceNow Store in 2023.
Velocity Smart Collect™

5

.1.0
is a minor release that introduces a new device range as well as improvements across the entire application:

5.1.0 Release Contents



Velocity Smart Collect™ has extended the range of compatible devices with additional Smart Vending series.
The new devices support the full spectrum of Velocity Smart Collect™ application functionalities
General Enhancements
We are proud to be adding our brand new premium IDEA Series to extend our Smart Vending system catalogue.
You can find the full contents of our latest Release here.
This release is available for download from the ServiceNow store.
To find out more about this release, click the link to the ServiceNow store below or book a demo with our team.