THE FUTURE OF IT SUPPORT
Welcome to Velocity Smart Vending™
We recognise one size does not fit all, and there are various business scenarios and challenges that need different, yet elegant, solutions.
This is why we have a range of products to suit your business needs. With so many businesses now implementing hybrid working models to get their employees back into the office, our Tech Vending machines are designed specifically to allow your employees to access low-value, high-volume items like keyboards, headsets, charging cables or other computer peripherals, saving your business time and money, while improving efficiency between employees and IT departments.
And of course everything is simply managed from within the Velocity Smart Collect™ ServiceNow application.
Velocity smart vending
Meet our IT Vending Machines
Our Smart Vending machines provide different vending technologies and are designed to meet your business requirements. All Velocity Smart devices are controlled and managed through the ServiceNow certified Velocity Smart Collect™ application, which allows you to keep track of your inventory and track supply levels all in one place.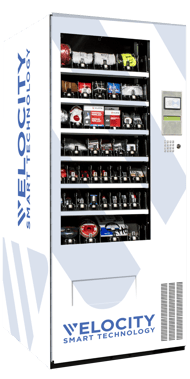 An innovative dispensing and control solution for IT peripheral supplies and other consumables. This range is composed of different modules which can dispense multiple products to satisfy customer needs. Rather than traditional coils, the Casia-Series use a belt-driven dispensing mechanism and a flexible setup which allows channel and partition repositioning without tools. This enables easy on-site reconfiguration of items to be dispensed.
IDEA SERIES
Introducing Velocity's IDEA Series of Smart Vending solutions for IT Asset Management.
The Idea range is our flagship Vending range, representing the epitome of automated asset management innovation. With gentle spiral-free dispensing, break-proof glass, customisable modular shelves, and an HD LED monitor, these next-gen kiosks redefine convenience. The Idea range comes with a conveyer dispensing system which accommodates a wide variety of IT peripherals, equipment or other products, while the advanced self-diagnostic tool ensures smooth operations. Engineered for delicate items, the Idea range comes with an internal lift system that guarantees a damage-free secure and seamless transaction experience.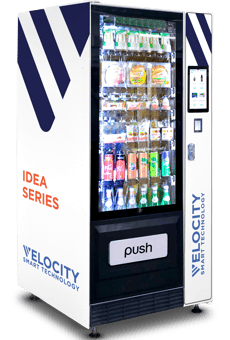 IDEA6 SERIES
Comes with customisable 6 lanes modular shelves, and 10" touchscreen. End-user can easily customize lanes setup to manage effectively any size and shape item, also combining adjacent lanes to move larger products.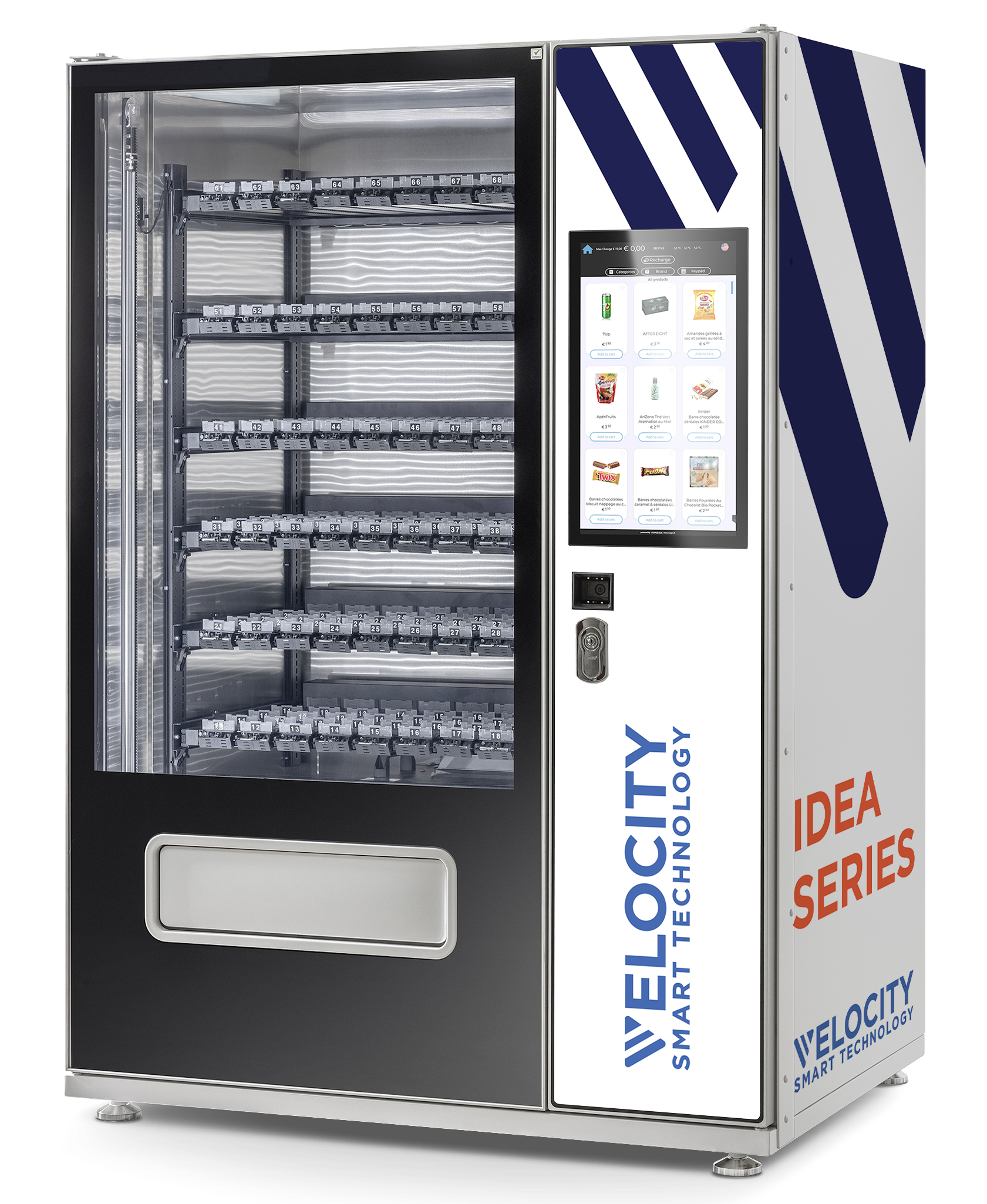 IDEA9 SERIES
The Idea9 is the big brother of the IDEA range, redefining automated asset management at scale. The IDEA9 comes with a larger 22" touchscreen, and 9 spacious lanes for larger items and increased capacity, which sets a new standard for convenience and reduced re-stocking visits.
We've made Smart Vending do one simple thing: work perfectly with ServiceNow
While the process the employee follows is incredibly easy, the important stuff happens seamlessly behind the scenes. There is no separate Smart Vending application to use, or integrate to, every single task from restocking, to reports, to setting allowance levels or managing access is all performed in our ServiceNow certified Velocity Smart Collect™ application right inside your instance of ServiceNow.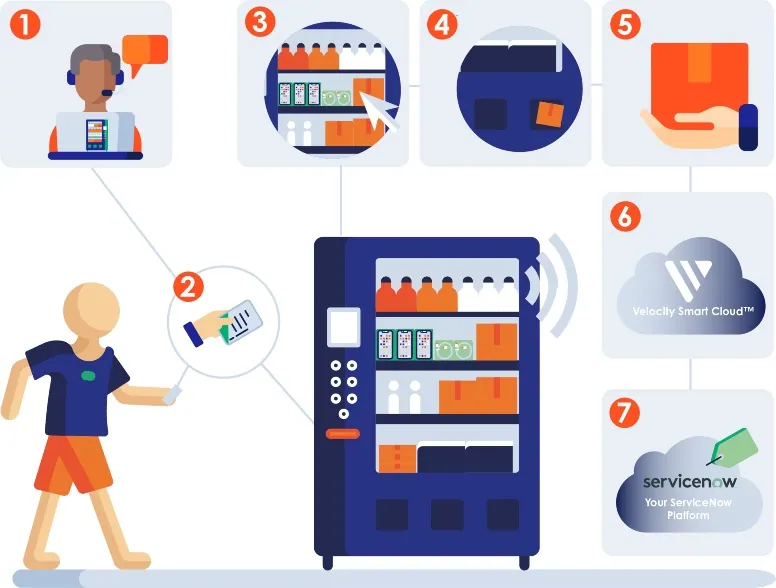 User(s) are registered by the admin for Vending service.


User goes to Vending machine and authenticates with SID card (or optional QR code).


User selects the position of the Item they want.


The item is dispensed by the Vending Machine.


User collects the Item.


The Vending machine updates the Velocity Smart Cloud with the transaction.


The Velocity Smart Cloud initiates the creation of a request ticket for the item in the customer ServiceNow platform.
Velocity Smart Vending
Benefits of our Tech Vending Machines
Our range of Smart Vending Machines offers a great range of benefits for your business
We have worked hard to think about how every aspect of an IT Vending solution needs to deliver for modern IT support.
Plug & Go
Cloud based, WiFi/3G connectivity – simple simplicity.
Vends Every Time
Each of our locker ranges has unique technology to ensure that items are dispensed first-time, every-time. Senses and confirms each item dispensed. With padded delivery bay to safely dispense sensitive or fragile items.
Extremely Configurable
Tailored to fit your specific items to ensure performance and quality. Adjustable shelf height & Tray configuration for a wide range of shapes and sizes.
Reporting & Tolerances
Report & Restrict. Cloud-based technology ensures stock and transactions are reported and only authorized people can select certain items, with ability to limit items over time. Stock tolerance alerts.
Versatile
Versatile uses -Suitable for any low-value items and operations moving. Keyboards, headsets, spares, cables, or whatever else your business needs.
Secure
Encrypted cloud integration. No hard drives, no viruses, no data synching, no GDPR concerns. Supports barcode, proximity card, magnetic strip, or keypad entry user ID.
VELOCITY SMART COLLECT
Application Features
With every feature available within your ServiceNow, all our Vending management and user features are available out-of-box with Velocity Smart Collect™
Allowance level management
Global Support & Restocking Services
Of course, you need more than just a great solution. You need great service to help manage it. With our Global support network, we offer a full range of Vending Restocking and Support Services to meet your enterprise needs.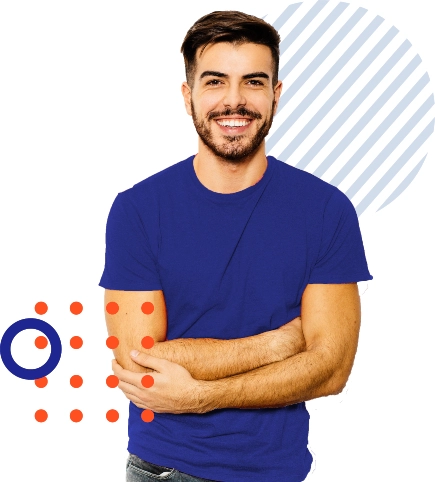 WHY CHOOSE VELOCITY SMART VENDING
Our Unique Technology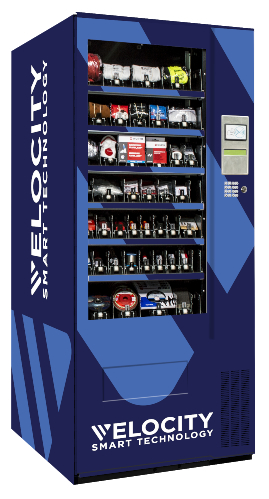 As we are all aware, IT requests can often take up valuable time from both your IT support staff and end-users, but our Smart Vending solution will enhance your support offering as well as making your user experience both seamless and easy.
Easy access to low value, high volume items
Automated Stock Management
Effective coverage for large campuses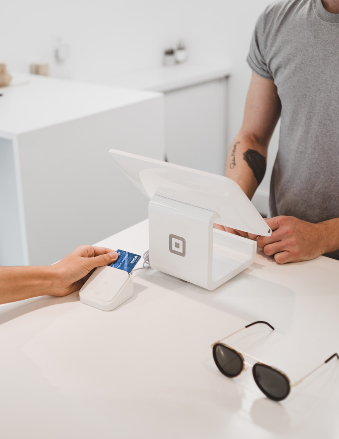 Smart Vending Machine Lease Options
We have a range of Smart Vending Machine purchase options to suit your business.
Love CAPEX? Prefer OPEX? Velocity has a range of purchase options designed for your business requirements.
The Smart Devices can be purchased up front, or we can help you to find a Lease deal from a range of Locker understanding finance firms.
Click the link below to find out more about our range of lease options