Once used as a popular way to describe eco-friendly cars, the term 'hybrid' is now arguably best defined as the new buzzword in the working world.
Fed up with long, gruelling commutes to the office and having finally found a happy balance between home and work life, the hybrid model is favoured by employees. Although it allows for greater flexibility and well-being, it also means coming to terms with the death of the traditional 9-to-5.
83% of UK office workers agree that flexible working is here to stay, suggesting there really is little doubt that the office has changed forever, and so businesses are already adapting their approach to include a mixture of remote, office and hybrid situations as well as the technology needed to support this.
As we enter into the next evolution of work, the practicalities of deploying a highly flexible workforce have to be ironed out now before it's too late.
Benefits of hybrid working
Employees are starting to demand this newfound flexibility, with some even prepared to move on to pastures new if they're not guaranteed it. Providing the sense of freedom that the workforce desires can therefore help decrease staff turnover and increase job satisfaction.
With the ability to work from where they choose, employees are exerting more control of their working schedule and home life.
With lockdown measures a thing of the recent past, hybrid working is expected to increase employee happiness and well-being, and create a more focused and driven workforce. Businesses are also realising the cost benefits of having a remote workforce, with many planning on reducing their office space or ditching locations altogether.
At around £500 per square foot per year for a prime location, office space in London is the most expensive in the world. Having a grand central office isn't as necessary anymore, and business leaders will be placing that expense under increasing scrutiny with savings reinvested in providing support and technology to staff.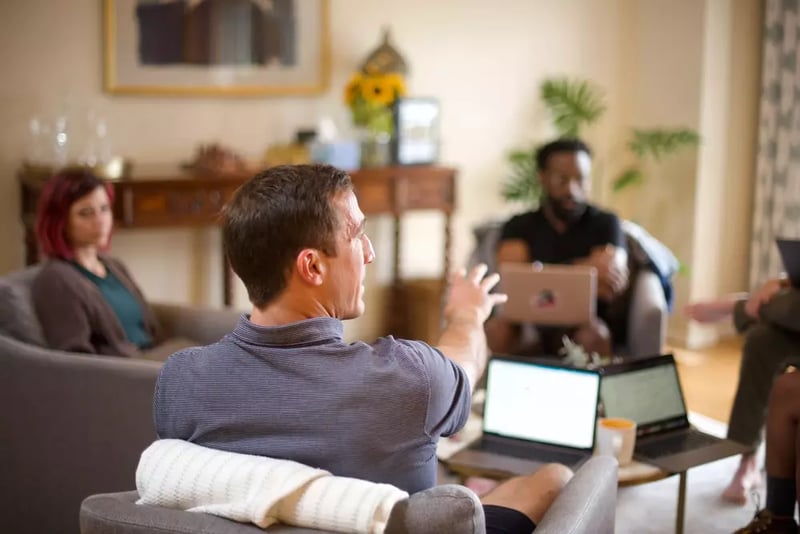 Challenges of hybrid working
Hybrid working is the topic on everyone's minds, which is putting the likes of WeWork, Regus and Spaces in prime position to offer flexible work options. It has quickly become one of the main strategic priorities of the future of work, but it's also one of the biggest challenges. Employees want choice and are threatening to go elsewhere if this isn't provided. But this often means being able to tailor working conditions to each and every member of staff.
Allowing employees to work from a variety of different locations also means providing them with remote technology and software solutions to boot.
Many businesses found themselves rushing investments in remote working tech when the global pandemic hit, but strategies now need to be refined with the long-term future of home and hybrid working. Communication and collaboration need to be considered top priorities, as mixing remote teams with those in an office setting can be productively and culturally challenging.
So, although the benefits are clear, hybrid working isn't entirely risk-free. Businesses need to understand what issues need to be thoughtfully considered.
Hybrid working has increased the reliance on technology
Increased reliance on technology is the standout challenge of the new remote-working world. When every employee needs a functioning laptop and steady internet connection to connect with their peers and fulfil the bare minimum of their duties, they're one technological hiccup away from grinding to an unproductive, radio-silent halt.
For a company to thrive in this new world, it needs to evolve how it gives support to its remote employees to ensure they're equipped and capable to give their all.

Use technology to foster better inclusivity
Unevenly implemented hybrid working and behavioural bias can lead to an influence gap between an office-based team, and your remote workers. This could have a knock-on effect on diversity and inclusion with more women, or carers, or people with health issues, opting to work from home. How will you make sure their voices are heard and nobody feels disconnected?
Technology will again play a big part here and it is your responsibility to ensure your staff feel supported and equipped with the right tech and tools to bring them into the collaborative space.
Define a structure of the new way of working
As an employer, you need to clearly define what hybrid working means for your workforce. Outline if there are any spaces that aren't suitable for hybrid working and if there are any core hours or days they need to be in the office.
They need to know exactly what is expected of your employees in regard to flexible working. Discuss how they should behave, communicate and what you as an employer will provide in return. It is important that every employee is on the same page, perhaps creating a simple staff handbook could help ensure clear communication.
So which is it? Remote, Office or Hybrid?
Regardless of which working practice your business opts to implement, employees need to know what is expected from them and be allowed to have a say on when their day starts and when it's time to call it quits.
Each option has pros and cons, but by discussing the changes that a new way of working may bring, where responsibilities lie and what you as an employer will provide in return is a good way to reassure your workforce that the business is moving with the times.