The pandemic has profoundly shifted the dial on the subject of remote work. If there's one thing we've learned from working during lockdown, it's that the stigma around working remotely has gone and been replaced with a new enthusiasm to embrace the flexibility and freedom from employees and business leaders alike.
Unsurprisingly, employees who have been liberated from long and expensive commutes on crowded transport have discovered that they can put that time to better use – being more productive at work and at home and spending more time with their loved-ones. This flexibility has allowed people to bring a much-needed equilibrium to their personal and professional lives.
Many businesses also recognise the benefit of embracing this change as the opportunity to access new pools of remote talent who are unconstrained by location, and adopting new practices and technologies to boost productivity while significantly reducing the huge overhead costs of city centre real-estate.
So if both businesses and employees are both 'accentuating the positive', is this a win-win situation? Unfortunately not if you are a commercial landlord!

The Incredible Shrinking Office!
Decades ago, workers enjoyed expansive dedicated office spaces, often with over 20 square metres of space per employee. Companies invested in huge purpose-built headquarters, or entered stable long-term leases in city centres. This practice was all already changing before the pandemic arrived, when the rise of coworking spaces saw office space squash down to a mere 5 square metres per person, as city real estate prices rocketed, and businesses reduced their office overheads.
Now business overheads are dropping further, not by reducing the amount of space per employee, but by reducing the number of employees in the office. Surveys repeatedly confirm people's desire to spend more time at home and less in the office – and now the experience of sustained productivity during the lockdowns has made this request impossible to refuse.
In 2019, just 5% of the UK workforce reported that they worked 'mainly from home'. By April 2020, when the first Pandemic Lockdown was underway, this figure had leapt to 47%, according to the UK's Office for National Statistics (ONS). Various announcements have followed this data, such as that of Lloyds Banking Group, which is set to reduce its office space by 20% over two years after a staff survey found that nearly 80% wanted to work at home for at least three days a week.
This is unsurprising, given that according to the ONS, the average UK worker is £495 a month better off working from home. Encouragingly, the savings are enjoyed by both sides, with Hitachi Capital estimating that the average UK SME could save £840 per employee each month from savings on overheads such as rent, utilities and cleaning.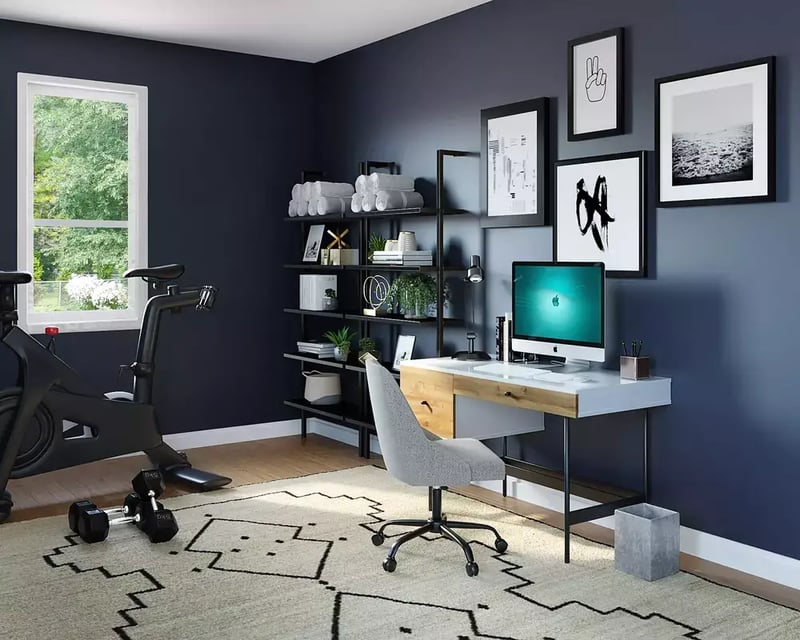 Flexible Work Needs a Flexible Office
While remote working has clearly increased, the office is not quite dead yet – but it is going to need to change a lot to accommodate the new modes of work. Most people are familiar with the setup of a modern office – open plan areas filled with desks, meeting rooms, breakout areas, kitchenettes, etc. With the requirements for Covid security, plus the new modes of working, the priorities of the office will now differ accordingly.
As the office evolves – so will the amenities and support services that are implicitly linked with the office – such as IT support and location services. IT support is split into software support - which can be accessed via telephone based IT support and remote desktop control - and hardware support. Unfortunately, hardware support and replacement is still mostly carried out by IT support staff delivering replacement hardware directly to employee. This is a costly and outdated option. However, enterprise scale businesses are waking up to this fact and this support model is being replaced by decentralised IT Support using Smart Lockers that can vend replacement hardware to employees.Employees can access hardware at their leisure using a unique secure redemption code from their IT support service.
If people come into the office for only a few days a week the purpose of office time will be to maximise the collaborative aspects of work that benefit from face-to-face contact - such as brainstorming, planning and innovation. During the pandemic, remote working has relied heavily on pre-existing social dynamics and structures - i.e. people we all knew already. It is much more difficult to build a reliable and trusting working relationship remotely than it is in person, so the office will still play a major role in enabling employees to build relationships.
This will require many more small collaborative meeting spaces and meeting rooms that can enable group working, town halls, syndicate group working, and space specifically designed to foster this. At the same time, Covid conscious businesses may require smaller groupings of people to work in the office – meaning the large open plan areas are likely to be removed. Offices may return to being smaller, with a greater density of smaller spaces – reversing all the open-office trends that have been advancing in recent years.
Smaller businesses may choose to take flexibility to the next level, and forgo a property lease altogether, in favour of flexible co-working spaces that have a presence in multiple cities. Flexible solutions can offer a dedicated space they can rent by the month, with innate scalability and meeting spaces that can be booked by the hour.
As the pandemic recedes and all of these changes come to fruition, the landscape of work will be changed utterly, and hopefully, for the better. Crowded commutes to the centre of large cities will become less central to people's lives, enabling them to live in smaller cities, and to attend smaller satellite offices, while still maintaining connectivity and productivity in their career. A pleasing thought, as the hard times of the crisis come to an end, and we can begin to look with some hope to the future.