To see the full picture, sometimes you must take a step back. The events of 2020 made the whole world take a step back and the result was that the mistakes we've been making with our work/life balance came into sharp focus.
As societies across the world emerge blinking, into the Spring sunshine of post lockdown life, we all have the opportunity, and indeed the responsibility, to reimagine the way we do things – in particular the way we work.
But how do businesses navigate this step change in behaviour? In our 'build back better' world, how can we make smarter use of tighter budgets? One thing is for certain – technology and trust are both going to play a big role.
So what have we learned?
Rush Hour is terrible
No matter how many of us are looking forward to returning to the office and bustling city centres, the one thing no-one is looking forward to is the daily rush hour.
It has become clear that commuting has to change. Everyone travelling at the same time, on wildly overcrowded, potentially contagious, and expensive public transport systems simply cannot continue.
We all recognise the value of face-to-face meetings, as well as the invaluable opportunities for learning that an office environment offers young or inexperienced workers. However, there is often plenty of work that could also be completed at home, or elsewhere, and potentially outside the core hours of 9 to 5.
Smart businesses should embrace a more fluid approach to 'core hours', and put an end to the culture of presentism at the office. Off-peak travel should be encouraged, perhaps alternating with earlier and later starts. Businesses should encourage cycling to work as a healthy alternative to confined and crowded public transport. The 9 to 5 has been declared dead many times in the past – perhaps now is the time to actually make it so.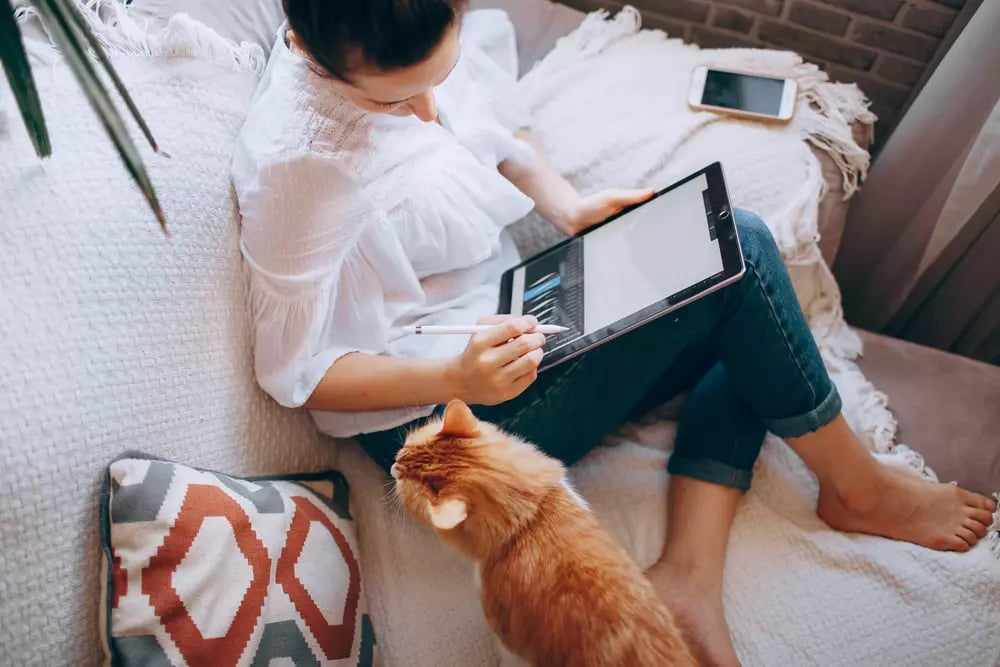 Flexibility is key to a work/life balance, and thus greater productivity
At the start of the pandemic a lot of leeway was required, and was granted to both businesses and individuals.
Businesses had to adapt overnight to a decentralised workforce, rapidly embracing greater flexibility and quickly adopting new technologies that support remote work. Likewise employees had to evolve in parallel – swiftly learning to use collaborative cloud-based software whilst maintaining their personal lives, caring for their relatives, and even home-schooling their children.
The crucial lesson is: it worked. Employees proved that they could be trusted to remain productive working remotely and out-of-sight, now it is time for businesses to repay that trust by granting employees the right to work at least a portion of their hours remotely and at their own discretion. In order to do this, businesses need to make sure their staff have the correct tools at their disposal.
Technology is the great enabler
When PwC conducted a major survey on remote work a year ago, it revealed that the top targets for spending to support hybrid working were 'tools for virtual collaboration', 'IT infrastructure to secure virtual connectivity', and 'Training for managers to manage a more virtual workforce' – A.K.A. software, hardware, and training, the IT trifecta!
The first of these three, 'tools for virtual collaboration', are the software applications that many of us have become very familiar with, e.g. Zoom, Slack, Microsoft Teams. Tools such as shared documents are so advantageous to productivity that they will continue to be used even in a face-to-face office environment.
The second target, 'IT infrastructure to secure virtual connectivity', is potentially more difficult to deliver. Employees need a stable secure internet connection, and most likely a VPN. They will also require IT support. While phone-based IT support with remote desktop control can resolve most software issues, hardware problems can still cause problems – particularly in a remote WFH context.
Even before the pandemic, replacement IT hardware could take a long time to arrive – which is why businesses should consider the benefits of a Smart-Locker filled with replacement IT hardware and peripherals, housed in a centrally located office space, or membership of a smart-vending system. Integrated Smart Lockers can allow for self-service IT hardware collections, so if an employee requires a new piece of hardware, they can call IT support, be issued with a unique secure code, and then redeem their replacement hardware from the nearest smart locker. This is one of the key technological enablers that will help to facilitate the remote working revolution.
The final target is, 'Training for managers to manage a more virtual workforce', which will also be a necessity. To sustain the benefits in productivity we have seen so far, and make a success of the new model, businesses and employees will need to listen carefully to each other's needs. Less oversight will require greater levels of trust, and this may necessitate greater levels of mutual communication and reporting to make sure that targets continue to be met under the new conditions.
Decentralisation can pay dividends
Less commuting, greater flexibility, and more remote working will demand a new culture of work, that places more trust and responsibility on the individual employee, and asks businesses to adapt to the challenges |(and opportunities) of greater flexibility.
Underpinning all of this will be the technology that enables it all – the collaborative software that we are familiar with, and some of the IT support hardware systems that are less familiar, but which will be key to the success or failure of the remote working revolution.