As the Covid-19 pandemic has changed the world we know, technology teams are now challenged with how to safely provide IT support whilst meeting government "Covid-19 Secure" post lock-down social distancing government guidelines.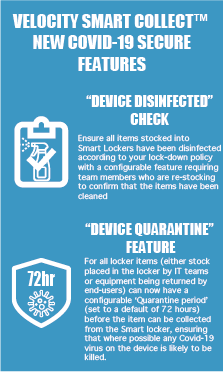 The challenges that post-lock down restrictions are causing businesses include:
How to provide IT equipment while meeting social distancing guidelines
How to build procedures to check that all equipment provided has been disinfected (and knowing who performed the clean)
How to ensure that broken/loan IT equipment is collected safely by enforcing quarantine periods
With its all-new Covid-19 Secure safety features, including Device Disinfected Check and Device Quarantine feature, the Velocity Smart Collect app along with Velocity Smart Lockers and Smart Vending are the worlds first Covid-19 Secure Smart Lockers and are now recognised as a vital tool to solve the challenge of how to provide effective IT Support while obeying social distancing policies and maintaining the paramount safety of both employees and IT staff.
We have implemented a series of measures to meet the increasing demand for Velocity smart devices and ensure we can safely build, deliver and install Velocity Smart devices whilst meeting stringent social distancing and hygiene requirements.

Demand is forecast to increase through June and July as lockdown measures lift globally. We are working closely with our supply chain to ensure we are able to satisfy demand.

To find out how you can use Velocity Smart Technology to deliver safe Covid-19 Secure IT support and to secure your devices now, click on the link below.