As the end of the living through a pandemic finally appears within view and the tantalising prospect of a return to 'normality' seems possible, many business leaders have started to think about the multitude of changes that will be required once employees get back into the office.
The office as we previously knew is already becoming unrecognisable as a variety of innovations and technologies are introduced that will make the workplace safer, employees feel more secure, and will hopefully increase productivity and ROI for employers.
Here, we take a look at the weird, wonderful and futuristic technologies that may just be heading to offices in the near future:
Air purifiers
Already rapidly gaining in popularity in people's homes – designed to remove particles, pollutants and impurities from the air in your living space - we could see these becoming popular in office spaces. 'Good Ventilation' is listed by the government and the World Health Organisation as one of the key means of reducing infections from Covid19, but as opening windows is not a realistic possibility in all offices, air purifiers could be the next best thing.
However, there is a wide range in functionality from different air filters – and viruses are so small that most standard air filters are ineffective against the likes of Coronavirus or any future viruses. What they can do is reduce the amount of microscopic aerosol water droplets circulating in the air – which is believed to be one of the major sources of Covid transmission.
The makers of Luft Duo for example claim their device can shorten the lifespan of the coronavirus, while CleanAirZone says their device can capture harmful pollutants as well as the Covid-19 virus.
Smart Lockers
Smart lockers are an innovation that can be used to reduce person to person contact in the office, and deliver IT hardware in a high-tech, low cost and Covid secure way, with software applications that can quarantine hardware for set periods of time, and provide clear audit trails of contacts.
Centrally located smart lockers can play a major role in enabling working from home (WFH), reducing unproductive down-time by offering self-service provision of replacement IT hardware, in the event of a device failure, a major software issue, or a new item of peripheral equipment such as a headset or cable.
Some smart vending pioneers even offer Smart Lockers that are fully integrated with ServiceNow, meaning employees can simply request IT hardware such as laptops, phones, peripherals or spares from their existing online Service Portal and then pick them up directly as 'click and collect', using a unique secure code sent to their mobile device.
A Smart Locker system provides remote IT support
By deploying ITSM integration, which is offered by Velocity, Smart lockers can enable asset quarantine management and also track anyone involved in the chain of drop-off, repair and return. This level of traceability will be crucial in the control and reduction of any future outbreaks.
This reduces the need for on-site IT support, with all the attendant costs, Covid safety and space requirements, and delivers the flexibility and convenience of 24/7 self-service that employees now prefer. Whether enabling WFH via a centrally located hardware dispensary, or simply reducing the time taken to replace faulty IT hardware, smart lockers are proving to be a very successful addition to the modern workplace.
Smart Masks
Proving that there is nothing that cannot be improved by the addition of more tech and the prefix 'Smart', Smart Masks are the inevitable invention we have all been waiting for. The 'Maskfone' ($49) has an integrated microphone and earbuds to enable the wearer to take calls on the move without any mask-related muffling. Meanwhile the 'Airpop' ($149) features a Halo sensor that its creators claim measures the user's breathing data and the air quality of their surroundings – sending all the data to a smartphone app for reference and analysis.
For those who like to combine their cutting-edge tech with a fashionable aesthetic, there is the 'Xupermask' ($299), as endorsed by celebrity technophile Will.i.am, which combines LED lights, fan-powered filters, noise-cancelling headphones and an integrated microphone.
There is still a question as to whether hi-tech non-disposable masks such as these are set to become a regular feature of urban commuting. But if we start thinking more long term, we should consider switching from the environmentally damaging disposable PPE, to more robust re-usable alternatives.
Health Monitors
Taking the tech-craze of smart-monitoring to the next level, is full-blown health monitoring, (which is likely to be a little too invasive for most).
'Lifestyle Checkpoint' are marketing their hi-tech 'health and wellbeing kiosk', designed to 'provide ongoing measurement of your workforce's health and wellbeing to reduce sickness absence and leading to a more productive workforce'. The kiosk is intended as a tool to be located in a private part of the office, to allow for self-monitoring of health and wellbeing and help promote healthier lifestyles – offering a variety of health analytics such as blood pressure and bodyfat measurements to employees.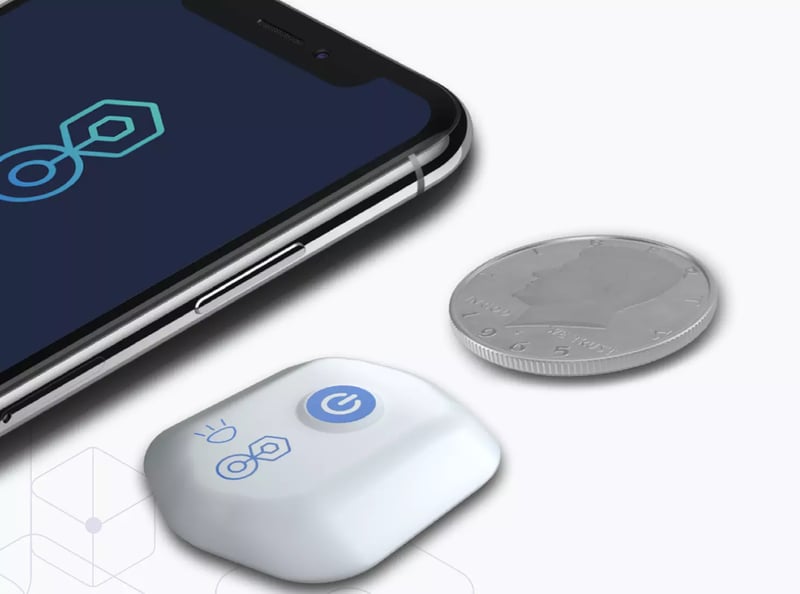 Alternatively, BioButton offers a wearable device, on the picture above, which can continuously track your temperature, heart rate and respiratory rate with clinical accuracy. It is worn as a sticker on the chest, close to the heart, and delivers data to an app, clarifying whether you are healthy enough to attend the office.
Office Robots
Finally, considerably later than 1999, robots may finally be entering the workplace. Unveiled at CES 2021, Samsung's Bot Care is an AI-powered companion that can recognise and respond to human behaviour, providing voice-activated assistance in the home or office.
In truth – this kind of automation appearing commonly in the workplace is still a long way off. The majority of robots that we will come into contact with in an office environment will be largely software-based – i.e. virtual assistants, voice activated devices. We can also expect increased levels of automation in areas such as food and drink preparation, or Smart-Vending Machines to securely dispense items – from IT hardware to security passes to pharmaceuticals.
Human ingenuity has always accelerated during times of crisis, and this pandemic has been no different. Many of the ideas and changes we see here are things that may have happened a decade or more hence - but had now been brought forward by the Covid-19 crisis.
Innovations such as air purifiers, smart lockers and health monitors are all futuristic gadgets that have clear real-world applications outside Covid security, as they will all improve people's lives, making them healthier, happier and giving them more independence and control over their lives - changing the way we work for the better.